Longtime gay rights activist Cleve Jones and close friend of Harvey Milk, who conceived of the AIDS Memorial Quilt in 1983, today with Milk screenwriter Dustin Lance Black, announce the initiation of a seven-week sustained campaign to demand legislators and President-elect Barack Obama draft and submit to Congress a comprehensive piece of legislation protecting the civil rights of LGBT Americans in all areas. Read their message below, and read about the campaign, AFTER THE JUMP…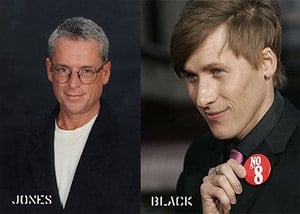 NOW IS THE TIME FOR EQUALITY FOR ALL AMERICANS
By CLEVE JONES and DUSTIN LANCE BLACK
On Nov. 27, 1978, gay rights pioneer Harvey Milk was assassinated in San Francisco City Hall. Thirty years later, his struggle continues.
On Nov. 4, 2008, millions of gay, lesbian, bisexual and transgender Americans of all races proudly cast their ballots for Barack Obama, helping to elect the first African American president of the United States. On that same day, voters in Arizona, Arkansas, California and Florida approved initiatives denying basic civil rights to GLBT citizens.
Like other Americans who voted for Obama, gay people supported our president-elect because we share his vision of a united America, and want to move forward to address the critical challenges facing our country and our planet.
We have always been willing to serve our country: in our armed forces, even as we were threatened with courts-martial and dishonor; as teachers, even as we were slandered and libeled; as parents and foster parents struggling to support our children; as doctors and nurses caring for patients in a broken health-care system; as artists, writers and musicians; as workers in factories and hotels, on farms and in office buildings; we have always served and loved our country.
We have loved our country even as we have been subjected to discrimination, harassment and violence at the hands of our countrymen. We have loved God, even as we were rejected and abandoned by religious leaders, our churches, synagogues and mosques. We have loved democracy, even as we witnessed the ballot box used to deny us our rights.
Like Obama, we never abandoned hope in the American dream of equality and freedom. We never stopped believing that the Declaration of Independence, the Constitution and the Bill of Rights included us.
We have always kept faith with the American people, our neighbors, co-workers, friends and families. But today that faith is tested and we find ourselves at a crossroad in history.
Will we move forward together? Will we affirm that the American dream is alive and real? Will we finally guarantee full equality under the law for all Americans? Or will we surrender to the worst, most divisive appeals to bigotry, ignorance and fear?
It has been 30 years since Milk gave his life in our struggle for equality. We will not wait 30 years more. We demand that the federal government act immediately, decisively and unequivocally to ensure equal protection under law throughout the United States of America.
We call on President-elect Barack Obama, House Speaker Nancy Pelosi and Senate Majority Leader Harry Reid to draft and submit to the Congress comprehensive legislation protecting the civil rights of gay, lesbian, bisexual and transgender citizens in all areas, including civil marriage, military service, adoption, Social Security, taxation, immigration, employment, housing and access to health care, social services and education.
We call on our country's leaders to take personal responsibility for involving our nation's religious leaders and the GLBT community in a national dialogue to encourage understanding and reconciliation.
We call on everyone to carry this message of hope and equality throughout our nation, to every place of worship, to every school and factory and shopping center, every city, suburb and farming town. We call on you to march together, demonstrate together, to pray together and dream together of a future America where, finally, all are free.
There are rare moments in human history when, suddenly and unexpectedly, the opportunity for great change and progress becomes possible. Obama has shown us the power of hope and the urgency of seizing that moment. Milk has shown us the power we possess when we make our voices heard.
We can accept no compromise.
We can wait no longer.
Now is the time.
We are equal.
READ about the Post-Prop 8 Campaign for Equality, AFTER THE JUMP…
Seven Weeks to Equality [official site]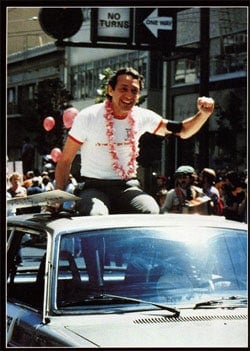 POST-PROP 8 CAMPAIGN FOR EQUALITY
We call on all supporters of equality to sustain and intensify the nationwide campaign of mass protests and nonviolent civil disobedience, for seven weeks, starting on Nov. 27, the 30th anniversary of the assassination of Harvey Milk, and to then gather together en masse, in Washington, D.C., on the morning of Tuesday, Jan. 20, to honor the inauguration of our President Barack Obama.
During the next seven weeks, we shall:
Strive always to maintain a positive message of hope and change.
Keep organizational structure to a minimum.
Encourage participants to express their anger and determination in creative, thought-provoking and peaceful ways.
Respect the media and law enforcement officers.
Avoid attacking people's religions. Hate language is always inappropriate.
Reach out immediately to racial and ethnic minorities, immigrant communities, labor unions, progressive religious denominations and other organizations working for social change.
Take your actions to downtown retail centers, transportation hubs and shopping malls for maximum impact during the holiday shopping season.
Insist upon a commitment from all participants to nonviolence when planning civil disobedience.
Study the history and traditions of nonviolent action. Angry marches and rhetoric can be cathartic, but do not necessarily help win hearts and minds to our cause. Effective forms of nonviolent civil disobedience often follow the peaceful, dignified and disciplined examples of Gandhi, the Quakers and the Rev. Martin Luther King Jr.
Remember always, and reflect in all your actions, that we are not fighting against anyone, or anything. We are struggling for equality.
FOR MORE INFORMATION, go to Seven Weeks to Equality.