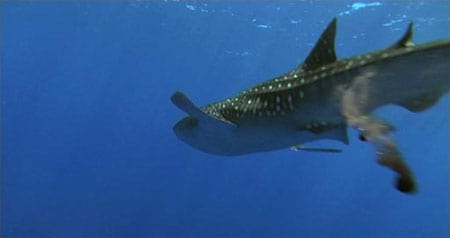 You know, I try to keep the subject matter varied on the site. That said, here's breaking nature news from the BBC:
"It's as thick as your arm, smells revolting and now it's been caught on camera for what's thought to be the first time ever. What is it? Shark poo! Biologists were so excited about spotting the whale shark going to the loo, they even scooped the poop out of the water so they could keep it! But it's not as grim as it sounds – by testing the poo they can find out loads more about the giant creatures. Despite being the world's biggest fish, very little's known about whale sharks."
Said Dr. Mark Meekan, who called the turd "scientific gold": "It does seem rather weird, someone being so excited about seeing whale shark poo. And I'm pretty certain that this is the first time it has been filmed. But it is pretty rare – they are usually doing their business down in much deeper water."
Here's the video.
Previously
Taxidermied Fire Island whale shark restored [tr]