Elton John and David Furnish (and, according to USA Today, their cocker spaniels Marilyn and Arthur), in New York for Monday's annual benefit for the Elton John AIDS Foundation, told the paper that gays and lesbians should be happy with civil partnerships and forget the fight for marriage equality.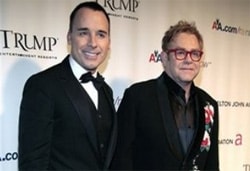 Said Elton: "We're not married. Let's get that right. We have a civil partnership. What is wrong with Proposition 8 is that they went for marriage. Marriage is going to put a lot of people off, the word marriage…I don't want to be married. I'm very happy with a civil partnership. If gay people want to get married, or get together, they should have a civil partnership. The word marriage, I think, puts a lot of people off. You get the same equal rights that we do when we have a civil partnership. Heterosexual people get married. We can have civil partnerships."
However, as folks in New Jersey in civil partnerships have discovered, separate but equal is not equal. Seems those in Connecticut felt the same way.