Christian right launches 'Protect DOMA' site designed to build opposition in minority communities to the repeal of the Defense Of Marriage Act: "All of the photos and quotes on the main page are from black and Latino people, including the notoriously closeted Mexican-American actor Eduardo Verastequi. Funded by the Alliance for Marriage Foundation, the site's list of their board of directors is a who's who of black, Latino, and Asian religious leaders, as well as one Muslim imam. The logo for the Hispanic Evangelicals Coalition is on the main page." Divide and conquer, indeed.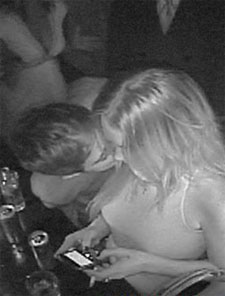 You never know when there's a security camera around.

Obamafy yourself, become a Fairey.

Sasha Fierce does the "Single Ladies" moves for Meredith Vieira…

Obama team denies it will delay repeal of "Don't Ask, Don't Tell": "An Obama transition team spokesperson, who spoke on the condition of anonymity, said the decision on how to approach repealing "Don't Ask, Don't Tell," which prohibits gays from serving openly in the military, would be made after more experts have joined the Obama administration. 'These decisions will not be made before the full national security team is in place,' the spokesperson said. The Washington Times reported last week that two people who have advised Obama's transition team said the president-elect "will not move for months, and perhaps not until 2010" to repeal the 'Don't Ask, Don't Tell' law, which Congress passed in 1993."

Napping boosts 'sophisticated' memory: "Indeed, scientists increasingly are focusing less on sleep duration and more on the quality of sleep, what's called sleep intensity, in studying how sleep helps the brain process memories so they stick. Particularly important is 'slow-wave sleep,' a period of very deep sleep that comes earlier than better-known REM sleep, or dreaming time."

Don't get too close to Valentino. He may rub off on you.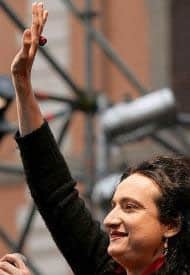 Italian transgender former MP Vladimir Luxuria wins "Celebrity Island" reality show: "The 43-year-old served in parliament for two years as a member of the Refoundation Communist Party before losing his bid for re-election in April. Over the past six weeks Luxuria, whose real name is Wladimiro Guadagno, has been a star on reality TV, trying to survive living on the beaches of Honduras with other celebrity 'survivors'. In the end viewers picked Luxuria as their favourite. 'I admired his capacity to defy the prejudices of his companions,' said Giorgio Gori, the show's producer."

Iran sees rise in sexually-transmitted HIV: "Sexually transmitted HIV infections are on the rise in Iran and the Islamic Republic is setting up telephone hotlines to help fight the problem, a senior official said in comments published on Tuesday. Injecting drug users are the main risk group in Iran, which is on a heroin smuggling route to the West from Afghanistan, but officials are also concerned about the number of people who are infected with the AIDS virus through sexual contacts." Well, Ahmadinejad knows who he can't blame.

Former South African President Thabo Mbeki's crimes against humanity.

WHO researcher: HIV could be eliminated within decade "if all people living in countries with high infection rates are regularly tested and treated."

Britney Spears announces first dates on tour….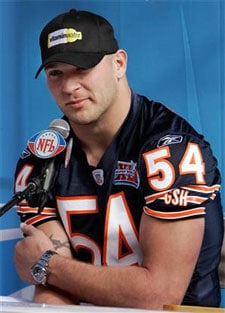 Brian Urlacher's wife demands the Chicago Bear stop painting their toddler son's toenails and dressing him in pink: "The mother, Tyna Robertson, threatened to block Urlacher from seeing the boy if the beefy linebacker kept up the alleged effeminate antics."

Hate vandalism at Skidmore College in upstate, New York: "An upstate college is investigating a possible hate crime after anti-gay sentiments and other vulgarities were written outside the school's Center for Sex and Gender Relations. Skidmore students say the vandalism is the latest in a series of similar incidents at the private liberal arts college in Saratoga Springs."

Former Project Runway finalist Daniel Vosovic has four roommates, and they keep their Lower East Side apartment very clean.

British police officer fired over anti-gay emails: "Norfolk police said Graham Cogman, 49, had been dismissed after a misconduct hearing yesterday. He faced disciplinary action for sending emails to colleagues quoting biblical texts and condemning homosexual sex, police sources said. He forwarded details of a group offering to 'cure' homosexuality, the sources said."

So is he or is he not?