GLAAD's Director of Entertainment and Media Damon Romine (below, left) wed his partner of nine years, Charles Robbins (right), executive director of The Trevor Project, yesterday at the Viceroy Hotel in Palm Springs.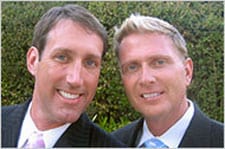 In a first-of-its-kind twist, they were wed along with Damon's father, David Romine and his partner Larry Barrett, of Topeka, KS, who have been together for 16 years.
Here is the New York Times announcement.
It's believed to be the first double wedding ceremony in the state shared by a father and son since marriage equality took effect in June. Among the guests were Star Trek actor George Takei and his partner Brad Altman. Following the ceremony, the newlyweds — both pairs — were the guests of actor Leslie Jordan at his one-man show My Life on the Pink Carpet.
Congrats to both happy couples!