Gus van Sant's biopic of the slain gay rights leader Harvey Milk received its review in the industry rags today, and was heaped with praise by both: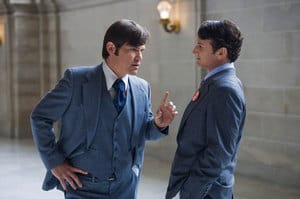 Hollywood Reporter: "'Milk,' written by Dustin Lance Black and directed by Gus Van Sant, is the first great film to look at civil rights from the perspective of the gay movement. The subject, of course, is the late, charismatic San Francisco gay activist and politician of the 1970s, Harvey Milk, played with extraordinary depth and wisdom by Sean Penn. "Milk" resists bumper-sticker identifications: Yes, it's a biopic, a love story, a civil rights movie and sharp political and social commentary. But it transcends any single genre as a very human document that touches first and foremost on the need to give people hope."
Variety: "But while 'Milk' is unquestionably marked by many mandatory scenes — the electioneering, outrage at conservative opposition, tension between domestic and public life, insider politicking, public demonstrations, et al. — the quality of the writing, acting and directing generally invests them with the feel of real life and credible personal interchange, rather than of scripted stops along the way from aspiration to triumph to tragedy. And on a project whose greatest danger lay in its potential to come across as agenda-driven agitprop, the filmmakers have crucially infused the story with qualities in very short supply today — gentleness and a humane embrace of all its characters, even of the entirely vilifiable gunman, Dan White."
Sean Penn looks well set up for an Oscar nod.
A message from Harvey Milk, AFTER THE JUMP…
You may have missed…
Gus van Sant's Milk Premieres in San Francisco [tr]
Focus Features CEO James Schamus Fires Back at Reporter Over Milk [tr]
San Francisco Streetcar to be Dedicated to Harvey Milk Tomorrow [tr]