California gay marriage ban a $73 million race.

McCain not ready to spell on day one.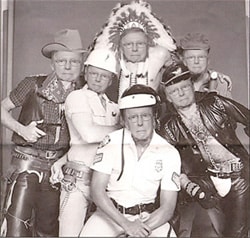 The gay-baiting of Senate Minority Leader Mitch McConnell. Signorile: "Since McConnnell is a senator who has voted antigay over and over again, it's certainly relevant to ask the question if things just don't add up, and there's nothing wrong with implying someone is gay or asking the question, is there? And if McConnell is not, and there is some other truth to his discharge, why not just state it?"

Lesbian relationship axed from Grey's Anatomy; female cast member fired. CBS reportedly nervous about too many gay storylines?…

And heads reportedly rolling on Heroes as well…

Four Soulforce riders arrested at Central Baptist College in Arkansas: "As Conway police handcuffed three women and one man, their fellow activists remained on the public sidewalk and sang the Christian camp song that begins, 'Love, love, love, love, Christians, this is your call.' The 17 activists were all members of Soulforce Q, a group that seeks what it describes as equal treatment for gay students. The group visited the small Conway campus of about 500 students as part of its third annual Equality Ride, a national bus tour of conservative Christian colleges and universities."

Is New York going to get a moving skyscraper?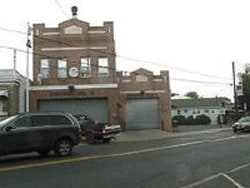 You may remember the case in Secaucus, New Jersey where a gay couple was awarded $2.84 million by a jury. The couple filed suit against that town claiming that they were harassed in an April 2004 incident by a group of firefighters who were partying at the firehouse adjacent to their residence. Now, the fire station is under investigation for a letter that went out to residents: "Last week, a letter that was sent to residents in the 2nd Ward from the "officers and members" of Rescue Co.1/Engine Co. 2, stationed in the North End firehouse. In the letter, the North End firefighters decried the departures of firefighters Charles Snyder Sr., Charles Snyder Jr., and Charles Mutschler, who, according to the letter, were forced by Secaucus Mayor Dennis Elwell to resign from the department. 'The Officers and Members of Rescue 1/Engine 2 are writing to the residents to reassure you that we are still both WILLING and CAPABLE of helping to keep our town safe,' said the letter. 'Recently, our firehouse has been under scrutiny for 'ALLEGATIONS' of an incident that occurred on April 24, 2004. As a result, three dedicated members forcefully resigned.'"

American Idol winner David Cook's brand spankin' new video for "Lights On".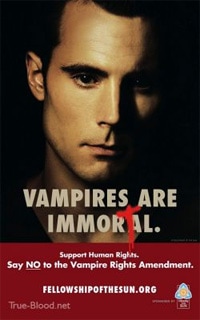 Alan Ball on making True Blood: "How easy it is to read the vampires as a metaphor for this or that is the least interesting for me. It's texture, but it's not what the series is about. When I first pitched this to HBO and somebody asked me what it was about, I said, 'It's about the terrors of intimacy.' At the time, I thought, 'Who knows what that means, but it sounds good!' Over time, I've really started to believe that that is the deeper meaning of the show, and I would venture to say a lot of horror movies, and is a lot of the reason why the vampire is such a powerful archetype."

Katy Perry performs at the largest AIDS fundraiser in Toronto with a bunch of shirtless hotties.

Inside fashion powerhouse Aussiebum.

Jennifer Hudson sequestered in her grief; crime scene too much.

Lindsay Lohan gets political: "In a post titled "VOTE," she apologizes for not blogging for awhile, and then gives us her get-out-and-vote spiel: 'I cannot say how important it is for everyone to get out there and vote tomorrow… The future of our country depends on it. Just one vote can make such a difference… Vote—because your thoughts are worth it..VOTE—because YOU can make this country a better place…VOTE—because you can. PLEASE!!!!!!!!!!!!!!!!!!!! She goes on to say 'yea' for Obama, including a little smiley face emoticon with her endorsement, and no on Props 8 and 4, the latter of which would require a doctor, before performing an abortion on a minor, to notify the girl's parents at least 48 hours before doing the procedure."