PROTESTS – this WEEKEND. I've UPDATED the list of demonstrations taking place this weekend. There are now events in San Francisco, Mission Viejo, Palm Springs, Long Beach, Santa Barbara, San Diego, Salt Lake City, Laguna Beach, Sacramento, and Los Angeles. I've added an event for tonight in San Jose, and updated the San Diego protest information. This will be the first non-pride gay rights march in San Jose history.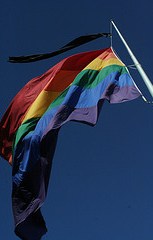 Rainbow flag at half mast in Harvey Milk Plaza in SF's Castro district. DailyKos diarist: "I was heading over Twin Peaks down into the Castro this morning. And I looked, as I always do, for my first glimpse of the huge Pride flag that flies over Harvey Milk Plaza. And it was there, in the morning sunshine, against the blue sky, at half mast, a black banner streaming out above it. I burst into uncontrollable tears, and had to pull off the road to cry." Remember, Milk would say, don't cry, fight!

Prop 8 opponents concede.

Boycott of Sundance Film Festival urged: "Utah's growing tourism industry and the star-studded Sundance Film Festival are being targeted for a boycott by bloggers, gay rights activists and others seeking to punish the Mormon church for its aggressive promotion of California's ban on gay marriage. It could be a heavy price to pay. Tourism brings in $6 billion a year to Utah, with world-class skiing, the spectacular red rock country and the film festival founded by Robert Redford among the state's popular tourist draws."

NYT: Equality's Winding Path.

Some disturbing reports from inside the "No on 8" campaign: "I worked for both the No on 8 campaign and the Obama campaign this year and cannot tell you how far apart those two were in style and substance. One was top down, the other bottom up. Ironically, it was the presidential campaign that was the grassroots model, not the state-level proposition campaign. As soon as I started working for the No on 8 campaign I was amazed at the level of scripting: 'don't say 'civil rights,' don't say 'constitution,' don't say 'gay." I couldn't believe it."

This image is making the rounds. It was designed by Nicholas Leggett.

HuffPost's Shaun Jacob Halper: Why Some Americans Don't Have Reason to Celebrate. "Sorry to be the buzz-kill at the liberal victory-party, but this election has been a historic nightmare for millions of gay Americans. In Florida, Arizona, and California propositions have been passed to amend state constitutions, permanently enshrining second-class citizenship into law. America has taken a tremendous step backward — actively revoking rights granted to citizens by state constitutions — though you'd never know it from most of the punditry and pontificating."

A report on the Mormon Temple march from Patrick McDonald at the L.A. Weekly.

Is Prop 8 an amendment or a revision?: "Prop 8 added only 14 words to the state constitution, adds only one provision, and deals only with the discrete issue of defining marriage. In their view, it does not deal with a host of constitutional rights or alter the basic structure of state government or the role of the state judiciary in it. This argument may be accepted by the California courts. If forced to bet, I'd bet it will prevail."

T.R. Knight talks about campaigning for "No on 8".

Jon Stewart talks about the election and Prop 8, AFTER THE JUMP…