The amount of material hitting various media on Harvey Milk right now is pretty astonishing. I've tried to collect some of it here.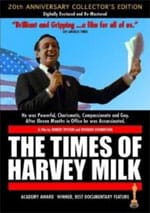 The Oscar-winning, director and co-producer of The Times of Harvey Milk, Rob Epstein, talks about Harvey Milk and Proposition 8 in the Huffington Post: "In light of the passage of Proposition 8, Harvey's message of thirty years ago remains as vital today as it was then. It is our responsibility to let our loved ones, co-workers, friends, and neighbors know who we are, so that those who vote in favor of discrimination have our names and faces in their minds eye when doing so. Although Proposition 8 wasn't exactly a re-make of Proposition 6, it's the same disaster movie storyline pitch: any recognition of constitutional rights for gay and lesbian citizens will somehow destroy the natural order and as a result America's institutions — be they schools or marriage–will crumble."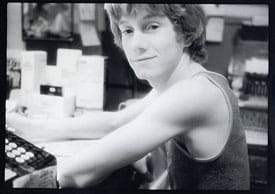 Photographer Dan Nicoletta talks about Milk: "I remember leaving there and remarking to myself how friendly those guys were. Especially that one – Harvey."
Remembering George Moscone.
SF Chronicle primer: The making of Milk as well as profiles on all the Milk actors and the people they play. Also, Harvey Milk's friends talk about Milk.
Cleve Jones in the Boston Globe: "There was a lot of crying, especially at the beginning because the neighborhood was so devastated by the AIDS pandemic. By 1985, 1,000 of the residents of the Castro had already died. I started the AIDS Memorial Quilt out of a fear that my friends and I, and the world we created for ourselves, would vanish without a trace. I wanted evidence of these lives that were cut short so brutally, and this film has done that as well."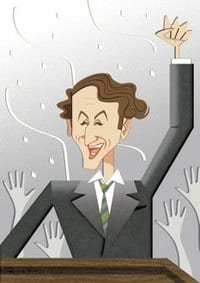 The New Yorker's David Denby on Van Sant's Milk: "The righteous march of events is warmed by the banter, the casual sex, and the candor of the gay milieu of the giddy seventies, the period just before AIDS, when life was free and easy. Some sort of sexual mischief is almost always playing out around the edges of the action, and, at the center of the picture, Milk comes across as an idiosyncratic man, a rule-bound New York Jew who finds his calling in the beautiful and sensually relaxed Mediterranean-style city. The gay leader becomes a superb pol with a human-rights agenda, and the movie offers a mildly subversive suggestion: attracting the electorate is not all that different from picking up a young man in the subway. Charm, persistence, and articulate passion are required for both."
I mentioned this article earlier, but I'll include it again here. The NYT reports on Milk and activists who seek to tie the film with the quest for marriage equality.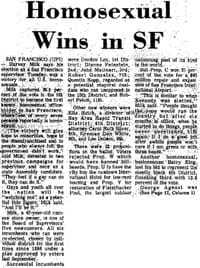 Jeremy at Good as you has assembled a 30-year Milk timeline.
USA Today: Timing is right for Milk amid gay marriage uproar: "[SF Mayor Gavin] Newsom starts to say that Milk should have come out before the election, to help defeat Proposition 8, the anti-gay marriage initiative. 'But maybe it's good it's out now,' he says. 'Milk is such a hopeful movie, and people need to believe again.'"
Focus Features hopes that audiences get Milk: "Unlike 'Brokeback,' which starred two young Hollywood heartthrobs against majestic scenery in a story about the spell of enduring love, 'Milk' is about a leftist politician in anything-goes 1970s San Francisco. As such, Focus could find 'Milk,' with its unapologetic liberal political and cultural themes, a tougher sell to general audiences, especially in parts of the country more conservative than urban markets. 'It's a fight, but we're ready,' said Focus Chief Executive James Schamus, who added that ' 'Brokeback' is a bit of the bane of our existence at the moment,' given the high expectations it puts on 'Milk' to perform accordingly."
Brief interviews with James Franco, Josh Brolin, Gus van Sant, Emile Hirsch, Diego Luna, Alison Pill, and Victor Garber, AFTER THE JUMP…
Gus van Sant on Harvey Milk as a leader on Castro Street.
James Franco on the importance of using figures from Milk's life, working with Gus van Sant, and his character, Scott Smith.
Josh Brolin (Dan White), on the story, shooting in San Francisco, and how he got involved:
Emile Hirsch on Cleve Jones' sense of humor, San Francisco, and van Sant.
Diego Luna on working with Penn, van Sant, and bringing the story to life.
Alison Pill on being the one of the few women in the film, and working with Penn.
Victor Garber, who plays Mayor George Moscone, on Sean Penn's performance: