On Friday night, before the day of protest we saw across the nation, a conflict erupted in San Francisco's Castro District between a group of residents and a group of Christians who reportedly meet every Friday on the same corner to preach to gays and lesbians about 'converting' into heterosexuals. This time, they were met by an angry mob and the conflict grew so large riot police were called to the area as the Christians were basically chased out of the neighborhood.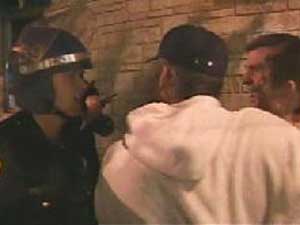 KTVU reports: "'Their rights were respected,' said Joe Schmitz, an opponent of Prop 8. 'They got a chance to go ahead and pray on the sidewalk and I had the opportunity to express my freedom of speech which is telling them to get out of my neighborhood.' San Francisco Police officers in riot gear formed a line and escorted the religious group into a van to safely get them out of the area. Members of the gay community insisted that their reaction to the Christian group was spontaneous. 'It was not an organized thing. We're tired of it. It's not religious. It's not a racial thing. It's about hate. We're trying to send a message across the world that we're standing up and we don't want this to go on anymore,' said Adam Quintero."
According to Joe.My.God, the religious right is already using the video (which you can see AFTER THE JUMP) as an example of the "intolerance" the gay community has toward the religious. While most of us know the hypocrisy behind that accusation, no doubt their followers eat these kinds of incidents up (just like this one).
Watch it, AFTER THE JUMP…