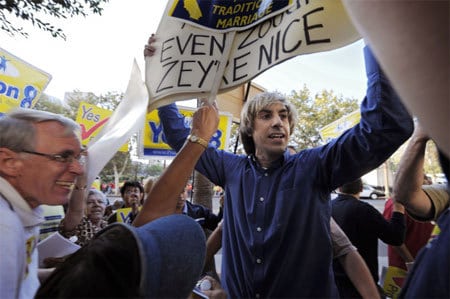 Sacha Baron Cohen, who as his gay Austrian reporter alter-ego Bruno crashed fashion shows earlier this year in Paris and Milan<, caused havoc at a cage fighting event in Arkansas, go-go danced in the middle of a Wichita airport terminal, and duped Ben Affleck as well as a former Israeli spy into doing serious interviews with him, crashed a "Yes on Proposition 8" rally at L.A.'s City Hall yesterday:
"Cohen, in disguise in a blond wig and preppy outfit, marched with demonstrators who support Proposition 8 while being trailed by cameras in a rally across from City Hall. When photographers and reporters realized who he was and tried to approach the star, members of his film crew tried to shield him, and he was eventually whisked away in a van."
Hopefully, Cohen's support was ultimately an effort to mock the anti-gay bigots.
Read my latest updates on the battle against Proposition 8 here and here. I'll have more soon.
The campaign urgently needs volunteers. Find out how you can help HERE.