A gay man was murdered early this morning in Washington, D.C.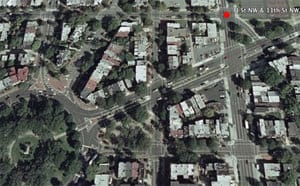 Via The Washington Blade:
"A 35-year-old gay man was shot in the head and killed shortly after 3 a.m. Tuesday at 11th and Q streets, N.W., while walking home from the Fox & Hound, a restaurant and bar near Dupont Circle, according to D.C. police. The victim was identified as Durval V. Martins of the 200 block of Bates Street, N.W. A police statement said Martins also suffered multiple gunshot wounds to the body…Martins' credit cards, cash, cell phone, and jewelry were still in his possession, Parson said…Parson, who also responded to the scene, said a police officer on patrol along the 1000 block of Rhode Island Avenue, N.W., 'heard multiple gunshots and observed several individuals fleeing north on 11th Street.'…Parson told the Blade that people who knew the victim said he had patronized the Dupont Circle gay bar Omega and the 17th Street restaurant Jack's before going to the Fox & Hound. People who knew the victim said he was openly gay and apparently worked at a D.C. restaurant, Parson said."
In September, 27-year-old Tony Randolph Hunter was beaten while walking to meet some friends at a gay bar. He died of his injuries in the hospital ten days later.