Brandon McInerney, the 14-year-old teen who shot his classmate Lawrence King in February because King was gay, has been ruled fit for trial. McInerney is being tried as an adult despite many calls to try him as a juvenile, including requests from a coalition of gay groups.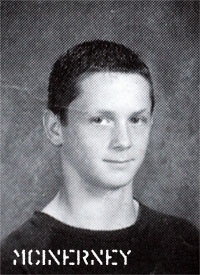 Ventura County Star: "Ventura County Superior Court Judge Kevin McGee made the ruling after the teen was evaluated by a psychiatrist and a psychologist to determine whether he can understand the nature of the criminal proceedings and assist his lawyers in his defense. McInerney is being tried as an adult. His lawyer, Scott S. Wippert with the law office of United Defense Group in Studio City, said there were no mental issues regarding his client. 'We were mainly concerned with whether or not he was developmentally mature to be tried as an adult,' Wippert said. 'Just because someone raises an issue of competency doesn't always mean that it relates to mental deficiencies. We were concerned whether he is competent or not. Obviously, we're not psychologists.' Wippert said it was necessary to gauge McInerney's maturity to make sure the teen understands the criminal proceedings against him."
Criminal proceedings against McInerney have been reinstated.
"Wippert filed legal motions for discovery asking the court to order the district attorney to provide records, documents and other information the office has about this case. In addition, defense attorneys are asking for a list of cases since March 2000 of minors who committed crimes when they were juveniles and had their cases transferred to the adult criminal justice system. Wippert said he wants to know the filing practices and standards used in determining whether a minor should be tried as an adult. He said he wants to uncover whether prosecutors "exercised any discretion at all" in sending McInerney's case to the adult court system."
McInerney has pleaded not guilty to the charges of premeditated murder and a hate crime. In October it was reported that McInerney's bedroom contained a "trove" of white supremacist materials.