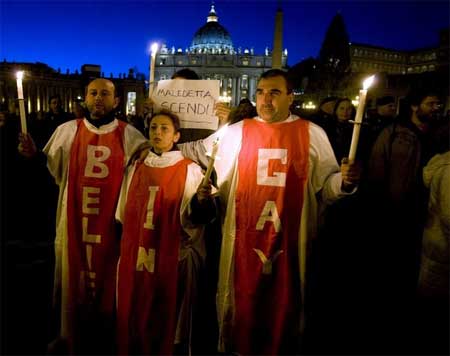 DignityUSA, New Ways Ministry, and Call To Action, three Catholic groups that support gay equality, will hold vigils in five U.S. cities protesting the Vatican's opposition to a UN declaration formally condemning discrimination against gays. The resolution will be presented to the UN tomorrow.
Said DignityUSA's Executive Director Marianne Duddy-Burke in a release regarding the action: "We applaud the United Nations for its call to end the laws that make gay and lesbian people criminals. But our joy is overwhelmed by our shock over Vatican's opposition to this initiative. Using faith and religion as an excuse to support laws that allow countries to imprison or execute gay people is shameful. We cannot be silent-the Vatican does not speak for all Catholics on this."
Hundreds of protesters crowded St. Peter's Square near the Vatican over the weekend protesting the Church's position (photo above). I posted about it yesterday.
I've re-posted video of the Rome action and a list of details on tomorrow's vigils,
AFTER THE JUMP…
Boston, MA
6:30 PM Eastern Time
Holy Cross Cathedral
1400 Washington Street
Boston, MA
Contact Person: Rocco Pigneri, 617-421-1915, dignityinfo@dignityboston.org
Directions: http://www.angelfire.com/ma4/cathedral/directions.html
Dallas, TX
5:30 PM Central Time
Cathedral Guadalupe
2215 Ross Avenue
Dallas, TX
Contact Person: Jon Garinn, 214-621-9530, garinns@sbcglobal.net
Directions: http://www.cathedralguadalupe.org/about/directions.cfm
New York, NY
12:30 – 1:30 PM Eastern Time
Fifth Avenue & 51st Street (in front of St. Patrick's Cathedral)
New York, NY
Contact Person: Jeff Stone, 646-418-7039, jefastone@aol.com
San Francisco, CA
5:00 – 7:00 PM Pacific Time
Pink Triangle Memorial Park
Castro & Market (near the northwest corner)
San Francisco, CA
Contact People: Jim McGarry or Kathy Curran, kathycurran@yahoo.com
Seattle, WA
4:45 – 5:30 PM
St. James Cathedral
804 Ninth Avenue
Seattle, WA
Contact Person: Leo N. Egashira, 206-723-4759, legashira@yahoo.com
Directions: http://www.stjames-cathedral.org/Main.htm