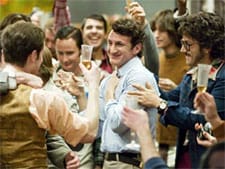 Via The Envelope:
"The Producers Guild of America selected 'Milk' on Monday as this year's recipient of the Stanley Kramer Award, which annually recognizes work that 'dramatically illuminates provocative social issues.' The award will be presented to producers Dan Jinks and Bruce Cohen at the 20th annual PGA Awards on Jan. 24 at the Hollywood Palladium. Gus Van Sant directed the drama about Harvey Milk, an openly gay man elected to the San Francisco Board of Supervisors in 1977. Past recipients of the award include 'The Great Debaters,' 'An Inconvenient Truth,' 'Good Night, and Good Luck' and 'In America.'"
Milk also picked up 8 nominations from the Critics' Choice Awards.
Rob Epstein's Oscar-winning documentary The Times of Harvey Milk is also now available on iTunes. This documentary, which I recommend to everyone, was what first introduced me to Milk's story and will definitely enrich your viewing of the Van Sant film.