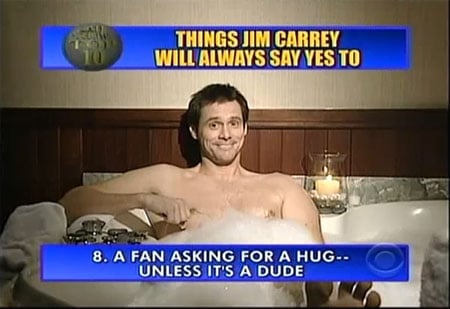 Last night on The Late Show with David Letterman, Jim Carrey appeared to promote his new movie Yes Man, and read the Top Ten list which was "Things Jim Carrey Will Also Say Yes To". Although late night hosts should know better, the list was punctuated by a couple of lame gay jokes.
#8 on the list of "things Jim Carrey will always say 'yes' to" was "A Fan Asking for a Hug, Unless He's a Dude." Classy, especially for a guy whose next movie, I Love You Phillip Morris, is out this winter and is a gay-themed movie about a con-man who falls in love in prison. If the cringe-inducing trailer for Phillip Morris didn't already convince you Carrey's film isn't one worth seeing, this top ten just might.
The final joke was a visual sight gag of Carrey drinking Champagne in a bath with Larry King.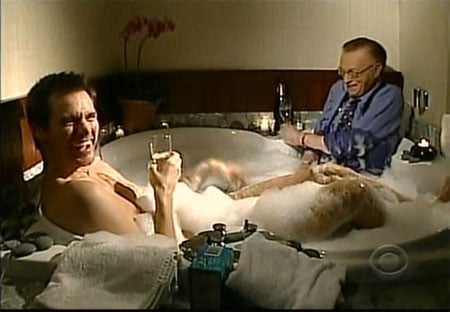 Following the visual, Letterman says, "Those guys are so gay!"
It's certainly meant to look gay, and it's a funny visual to see Carrey in a bath with King, and certainly #8 on the list was more directly offensive, but what's Letterman's statement supposed to imply? That somehow, it's still embarrassing and a joke to be in a gay situation. You know, like giving someone your gayest look.
Maybe I'm just in a foul mood over the Warren pick.
Watch it, AFTER THE JUMP…