Moscow Mayor Yuri Luzhkov said at an AIDS conference in Moscow Thursday that he suppresses the opinions of gays because they spread AIDS: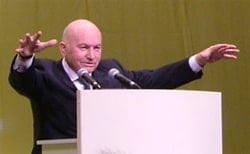 "Mayor Yuri Luzhkov, speaking at an HIV/AIDS conference in Moscow, also said there was no scientific proof that condoms provided full protection against sexually transmitted diseases. 'We have banned, and will ban, the propaganda of sexual minorities' opinions because they can be one of the factors in the spread of HIV infection,' Luzhkov was quoted as saying by state-owned RIA. 'Some home-grown democrats consider that sexual minorities are a major indicator and symbol of democracy but we will continue to ban the spread of their views,' Luzhkov said. Luzhkov's administration has banned several gay rights marches in Moscow in the interests, it argues, of ensuring security and preventing public disorder."
Not that Luzhkov has ever been an enlightened fellow. In January 2007, Luzhkov branded gays "satanic" and has continually attempted to quash any type of pro-gay gathering.