The conflict within the state senate's Democrats and a push for re-election of Governor David Paterson has some lawmakers wary of attempting to pass a marriage equality bill in New York this session, perhaps not until 2011, the NYT reports: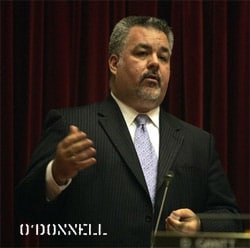 "Internally, the debate has created two camps among lawmakers who back the bill — with one group saying a vote should happen as early as possible in 2009, and another camp arguing for an indefinite delay. But delaying it could upset some advocates of same-sex marriage, who poured hundreds of thousands of dollars into State Senate races this year. 'Since when are fixing the economy and civil rights mutually exclusive?' said Daniel J. O'Donnell, an assemblyman from the Upper West Side who led the push for the bill in the Assembly. Mr. O'Donnell added that expectations are high in the gay community that New York will be able to deliver the movement's next victory. 'The leadership of the Senate and others in our community collected a lot of money from a lot of people with the promise — spoken and unspoken — that if the Democrats won the Senate, they would take a vote,' he said. Mr. O'Donnell plans to introduce a bill relatively early in the 2009 session, setting up a possible confrontation with the Senate."
O'Donnell, if you'll remember, spoke out about marriage equality when a bill was waiting to be taken up by the Senate in July 2007.
I posted about the status of the Democratic conflict within the Senate on Wednesday. No doubt there will be more pressure in coming weeks.
A message from the Facebook group 'Stop a marriage referendum in N.Y.: Malcolm Smith for Majority Leader', AFTER THE JUMP…
You may have missed…
A Thanksgiving Thaw for New York Democrats? [tr]
VIA Stop a marriage referendum in N.Y.: Malcolm Smith for Majority Leader', AFTER THE JUMP…
Monday, December 1, 2008
It's time to flex your political muscles again. Program the following contact into your cell phone:
Senator Carl Kruger
Democrat, Brooklyn
Phone: (718) 743-8610
Email: kruger@senate.state.ny.us
And just as you did two weeks ago with Senator Ruben Diaz, Sr., email that contact information to everyone you know in New York, everyone you now in the country, and everyone you know on Facebook, MySpace, or Friendster. Post it in every Facebook group. If you have a blog, post it. Post it in your status on Facebook and on Twitter. If you're part of a wiki, post it there.
And while you're at it, make sure nobody forgets Senator Diaz's number – (718) 991-3161.
Then, starting today, start calling Senator Carl Kruger, and make sure everyone you know starts calling. And just as you did with Senator Diaz, in the most polite, respectful, non-argumentative way, I want you to tell whoever answers the phone that you are counting on Senator Kruger to be true to his party, the Democratic Party, and to support Malcolm Smith as Senate Majority Leader. Do not call to ask him to support marriage equality. Just remind him, he is Democrat, and it's his duty to support the Democratic Majority Leader.
Why? BECAUSE YOU ARE EFFECTIVE.
For two weeks you and thousands upon thousands of marriage equality supporters have called Senator Ruben Diaz, Sr. to tell him the same thing. It appears you're beginning to have an impact. Read this note for the evolving story of Diaz and Smith: http://www.facebook.com/note.php?note_id=37752848556.
Now, without taking the heat off of Senator Diaz, it's time to focus that attention on Senator Carl Kruger as well and to show him how effective we can be.
Kruger, a Democrat from Brooklyn, another member of the so-called "Gang of Three" is also using his opposition to marriage equality to defend his stance against supporting Malcolm Smith.