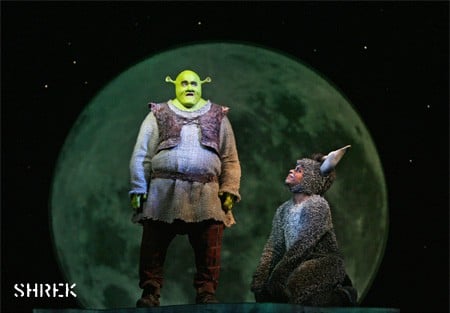 Kevin Sessums recently reviewed 'Back Back Back' and 'Farragut North' as well as 'Streamers' and 'The Language of Trees' for Towleroad. You can also catch up with Kevin online at his own blog at MississippiSissy.com.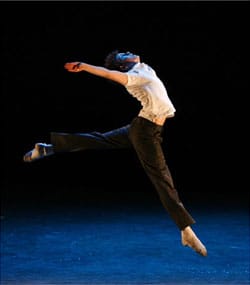 If you have family in town this holiday season or just want to treat yourself and a friend or lover to a Broadway musical, then here are three of the season's top choices if you're looking for stories that focus on being an outsider — which, let's face it, is more often than not the coming-of-age tale that most gay men and lesbians live through and survive as best we can. Such tales leave some of us with emotional scars. Others with an overly sardonic sense of humor. And most with a love of escapism that first finds its tap-happy footing in the soundtracks of the Broadway musicals we listened to as children when we chose to check out Angela Lansbury's latest Sondheim solo or more easily hummable Jerry Herman number instead of spending a Saturday afternoon facing the fear of others finding out that throwing a piece of spherical sports equipment didn't come as naturally to us as discovering just the right gesture while lip-synching "Rose's Turn," along with Lansbury's recording of Gypsy or "We Need a Little Christmas" from Mame. I know. I know. That's not a universal truth so all you jism-lovin' jocks and lesbians who love a free-throw line keep your comments to yourself.
Yet we all — jocks and lesbians and lip-synchers alike — need a little Christmas right about now. Let's start with Billy Elliot. Based on the 2000 movie of the same title, the idea for the musicalization of the film was first suggested by Elton John's partner, David Furnish, after they saw the premiere of the movie at the Cannes Film Festival, which gives the already gay-friendly story even more gay middle-brow bona fides. Friends with Stephen Daldry, who is the director of the film as well as the musical, Furnish and John convinced him it was worth a try. They were right. Though the musical doesn't work as well as the movie, it is still a laudable achievement in its own right.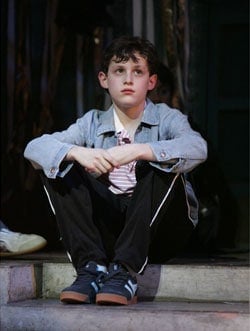 The story of a working-class boy whose father and brother are in the midst of a 1984 coal mining strike in union-buster Margaret Thatcher's England, Billy Elliot is filled with politics as well as pirouettes. Billy's mother is dead and his grandmother is helping raise him. When he discovers his love of dance, his dad at first forbids him from taking classes but finally finds it in his hardened strike-weary heart to allow his son to audition for the Royal Ballet school where he is accepted.
Billy is played, in rotation, by three young actor/singer/dancers. The night I saw it the role was magnificently filled by Trent Kowalik, a local kid from Long Island, who has also appeared in the role on the West End in London. He finds just the combination of fierce athleticism, prepubescent sensitivity, and a sad sweetness that transforms into a transcendent kind of artistry right before our eyes. Gregory Jbara touches any hardened heart as the father and Carole Shelley, as the grandmother, has a show-stopping first-act number, "We'd Go Dancing." But it is the first act's final number titled "Angry Dance," in which all the story's elements coalesce into one of the most stunning musical numbers I've ever seen.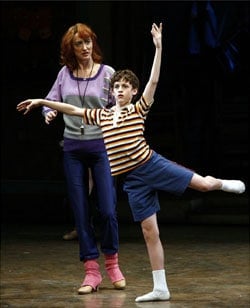 The show could use a bit more of that anger for it often veers off rather treacherously into treacle — especially in the fantasy segments when Billy, while dancing with his adult self, literally takes flight as if Peter Martins is playing Peter Pan. Yet whenever its at its treacly worst, Daldry and the musical's lyricist and book writer, Lee Hall — who was also the screenwriter of the film — have the cynical good sense to bring back onstage the ballet teacher in the gangly form of Haydn Gwynne. She finds all the hard-knock humor and heartbreak in the role of the middle-aged harridan who dares Billy to dream his dreams even if she has ceased to dream hers. And the night I saw the show, the role of Michael, Billy's young cross-dressing best friend was played by Frank Dolce, a little fireplug who doesn't have a treacly bone in his body, even when it's outfitted in the most flowery of dresses. Incongruously — and brilliantly — he played the role more as a toughened rascal than a pitiable little pantywaiste. The number he performed with Kowalik, "Expressing Yourself," brought the house down.
Elton John has bragged that he wrote the music for the show in two weeks — and all I can say to that is thank God for the orchestrations of Martin Koch. The exhuberant, inventive and often moving choreography is by Peter Darling, whose surname just may explain why he went so eye-rollingly overboard in that homage to Peter Pan.
T T T 1/2 (out of 4 possible T's)
Billy Elliot, Imperial Theatre, 249 W 45th Street, New York. Ticket information here.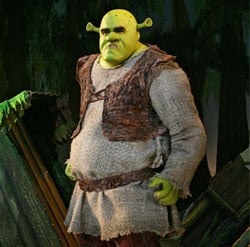 ***SHREK
Another outsider shaking up Broadway — and dividing critics pro and con — is the title character of the Dreamworks interpretation of cartoonist William Steig's singular creation, Shrek, that green ogre who scares the story's townspeople but delights children, as they say, of all ages. The Yiddish word "shrek," means "alarm or fright" and the Broadway musical is frightfully good. It is also the gayest show on Broadway — except, perhaps, for Liza's concert now at the Palace. The original movie was irreverent, but the musical takes that irreverence and revs it up a few notches. And there are inside theatre-maven jokes throughout. The show borders on being high camp and yet the innocent laughter of the kids in the audience loudly laces the more jaded howls of delight of the adults accompanying them into a lovely melange of … well … enchantment.
I must admit that Jason Moore, the show's director, is an old friend of mine and he asked me to see the show early on and give him my thoughts about it. I was also his guest on opening night. And I've known Jeff Katzenberg and David Geffen — two of Dreamworks founders — even longer than I've known Jason. So take my praise of the show with many grains of salt. But I honestly can say that after seeing it twice now that it is one of the most delightful evenings on Broadway. It is, in a word, a hoot.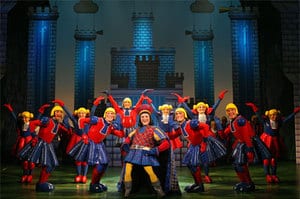 The idea for making a Broadway musical out of the movie of Shrek was director Sam Mendes's. He talked Katzenberg into doing it and Mendes's company, Aurora Productions, is listed as one of the show's producers. Katzenberg and Mendes are known as hands-on types of guys and I'm sure they had a lot of say regarding the final shape of the show. And yet it is obvious that the creators were given much leeway since the source material wasn't viewed as sacrosanct. The music by Jeanine Tesori, whose previous credits include Caroline, or Change and Thoroughly Modern Millie, and the lyrics and book by David Lindsay-Abaire, who won the Pulitzer Prize for his play Rabbit Hole, are delightful and, at times, moving. Jason, who directed Avenue Q, has given Shrek that show's same kind of snarky yet kindhearted pizzazz. Shrek seems like an off-Broadway musical that has been slipped some steriods.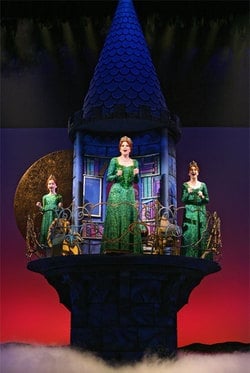 The main problem of the movie — and the musical — is that the title character is a bit of a virescent lump. But Brian d'Arcy James brings as much vigor and personality as he can underneath all that costuming and make-up. Daniel Breaker, as the Art Carney character to Shrek's Jackie Gleason, plays Donkey a bit limp-hooved but he certainly has his hilarious moments. Christopher Sieber, as Lord Farquaad, almost steals the show with his protrayal of the vertically challenged monarch. I'll let you discover how the show's creators have met their own challenge in making his lack of stature seem so real. Suffice to say, it's more than a sight gag. It's a running sight joke — at times literally so.
But no one can steal a show that Sutton Foster is in. She plays Princess Fiona and she is truly a Broadway musical star — and should be a star of even bigger magnitude. There seems no justice in the show business world when Cameron Diaz, who lent her voice to the cartoon character of Fiona, is foisted upon us as a mega-star with her limited talent and Foster is still only largely known by New York theatergoers. With her singing and comic timing, Foster is able singlehandedly to make these depressing times we're living in seem less depressing and is worth the steep price of admission all by herself. Her opening "Juliet Prowse number," in the second act, as I described it to Jason when I first saw the show, is the highlight of Shrek. If it were still possible to second-act shows — as I did so often when I first moved here in the 1970s — I'd suggest those of you out there who've already blown your Christmas budgets on presents for your family members to do just that simply to see what a true Broadway star can do when given the material. I adore Foster who is in the same lineage of Broadway stars as, yes, Angela Lansbury. And she's a better dancer too. See this show for her alone.
T T T (out of 4 possible T's)
Shrek the Musical, Broadway Theatre, 1681 Broadway, New York. Ticket information here.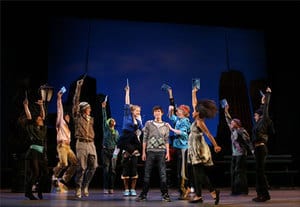 ***13
If tickets for Billy Elliot and Shrek are scarce over the holidays and you have a young niece or nephew in town, then I'd suggest you take them to see Jason Robert Brown's 13 before it closes in January. I saw it a couple of months ago and found it a delight — if you accept it on its own terms. Again, it is a story of an outsider — a Jewish boy who moves to Indiana and has his bar mitzvah there among the cornfed Protestants of that state. The cast is all amazingly talented and it's always a treat and pleasure to see young performers full of such joy to be performing.
I took the now 14-year-old I've mentored for the last seven years and he had a great time at the show, identifying with several of the characters up on the stage. And so did his old gay mentor, remembering what it was like to want to be accepted by the cool kids in school as I instead trudged home to put on another soundtrack so I could secretly practice my lip-synching.
T T (out of 4 possible T's)
13, Bernard B. Jacobs Theatre, 242 W. 45th Street, New York. Ticket information here.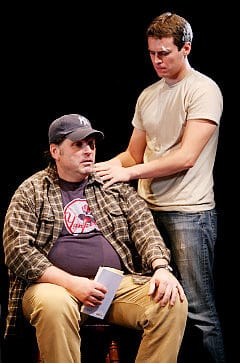 ***PRAYER FOR MY ENEMY
An additional heads-up: If you're fans of Victoria Clark (who won a Tony for Light in the Piazza) or Jonathan Groff (who should have won a Tony for Spring Awakening who was so great as Claude this summer in Central Park in The Public's production of Hair) or director Bartlett Sher (a Tony winner for South Pacific) or playwright Craig Lucas (two-time Obie winner for Best Play for Prelude to a Kiss and Small Tragedy and should have won one for The Dying Gaul) then check out the production of Prayer for My Enemy at Playwrights Horizons that is closing this Sunday December 21st. It is a difficult play to like — a drama with Tourette's syndrome-like internal monologues spicing up the usual dialogue. Lucas is always an interesting playwright and the performances are, at times, shattering. But the text becomes a bit too platitudinous for my taste. Again, it is a story of outsiders and how one's very outsiderness can gnaw away at one's sense of self and family and the very notion of a cohesive society.
T T (out of 4 possible T's)
Prayer for My Enemy, Playwrights Horizons Mainstage, 416 West 42nd Street, New York. Ticket information here.
Recently reviewed…
On the Stage:Back Back Back and Farragut North [tr]
On the Stage: Streamers and The Language of Trees [tr]
On the Stage: All My Sons and Speed-The-Plow [tr]
On the Stage: A Man for All Seasons [tr]
On the Stage: Equus and The Seagull [tr]