Towleroad has been nominated in the 2008 AfterElton Visibility Awards! Vote for your favorites here.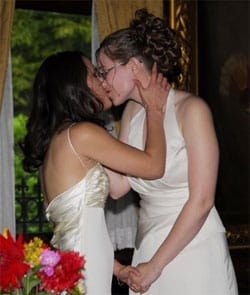 "Join the Impact" co-founder Amy Balliett's wedding photos.

Oklahoma lesbians denied divorce. Tulsa Beacon: "The bizarre case started when two women, reportedly 'married' in Canada filed for divorce in Tulsa. The divorce document, which had initials instead of first names, didn't show that the two parties were both women. Cait O'Darling used the name 'C. O'Darling' in filing for the divorce from 'S. O'Darling,' who was later identified as Stephanie Meissen. O'Darling claims they were 'married' in Toronto in 2003. A judge unwittingly granted the divorce, thinking it was a man and a woman. He later vacated that decision and the two women appealed."

Huge crowd shows up for swearing in of new gay San Francisco Supervisor David Campos.

Assailant in election night rainbow flag attack was the legislative aide of Del. Jackson Miller (R-Prince William): "Bryan Fumagalli, 28, was arrested Nov. 22 on two counts of simple assault, according to the U.S. Attorney's Office. 'I'm very disappointed in his actions,' Miller said today. 'He's being dealt with and being disciplined.' Police say Fumagalli assaulted one of two gay men who were walking outside the Capitol Hilton Hotel to a victory rally near the White House. They say he grabbed a rainbow flag, a gay rights symbol, from one of the men and assaulted him. Fumagalli has a court hearing Jan. 13."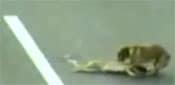 Dog's best friend: Pooch drags injured friend off road.

The RNC actually spent $180,000 for Palin family wardrobe, and she's still wearing it.

O.J. Simpson gets 15 years. He'll serve at least 9.

Prosecutor asks court to rule on the validity of Greek same-sex marriages, which were held on the island of Tilos in June.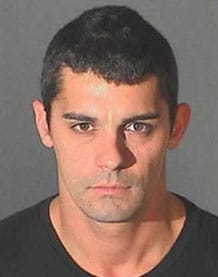 Profiles in Marriage: Britney ex Jason Alexander locked up at Los Angeles County Twin Towers prison.

Massachusetts state trooper gives speeding ticket to woman in labor.

South Carolina school principal Eddie Walker, who said he would resign in May over the formation of a gay-straight alliance at his school, has apparently changed his mind.

John Waters names his top films of 2008.

Graham Norton to emcee Eurovision Song Contest.

NPR: Racial divisions challenge gay rights movement.

Cleve Jones on the Feast of Fools podcast.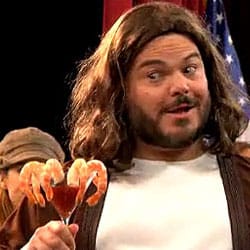 Christian group demands apology for Prop 8: The Musical.

Slugger: A-Rod and Madonna "just friends."

Hunk du Jour interviews Andrew Oldershaw, who had a hand in making these.

New Zealand neo-Nazi who killed gay man gets second life sentence for murder of South Korean backpacker.

Joe Satriani sues Coldplay for "Viva La Vida" plagiarism.

Prosecutors revisit charges in beating of gay men in Utah: "Salt Lake County prosecutors are taking another look at the case of two gay men who were severely beaten after one of them, David James Bell, allegedly kidnapped a neighbor's children. In August, prosecutors cited a lack of evidence and declined to file assault or burglary charges against the suspects in the attack, who are related to the children. But now, attorneys are again reviewing the beating, particularly the alleged attack on Bell's boyfriend, Dan Fair. Prosecutors are now reviewing the case 'under different theory,' said Deputy District Attorney Alicia Cook. She said no new facts have come to light."