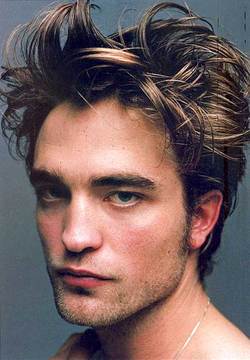 Robert Pattinson told Closer magazine that he had to give up modeling because he started looking like a man:
"When I first started I was quite tall and looked like a girl, so I got lots of jobs, because it was during that period where the androgynous look was cool. Then, I guess, I became too much of a guy, so I never got any more jobs. I had the most unsuccessful modelling career."
Meanwhile, Rolling Stone asks the actor: Do you have any gay teenagers contacting you?
"Not really. It's really just increasingly more and more straight guys than gay guys — unless my gaydar is just not really working. It's just started happening recently. They're all kind of a little bit embarrassed about it, but they'll all go up and still get their book signed or whatever. I'm so used to like writing to girls I always keep writing like, "Love, romance and kiss, kiss, kiss" that I have to like cross it out, "Oh, sorry about that."
Previously
Robert Pattinson's Action Figure Flaunts its Hair [tr]
Robert Pattinson and the Little Ashes Trailer [tr]
Robert Pattinson and Javier Beltran: Longing in Little Ashes [tr]
Gay Relationships and Fanging with Robert Pattinson [tr]
How Robert Pattinson Nurtures That Incredible Hair [tr]