First posted: Dec. 10, 2008
Sponsored Post:
In the 30 years since Harvey Milk's era, where have we made the biggest strides toward equality? Military? Family Rights? Legislation? Personal Safety? Media Representations? Health?

Nope. Corporate workplace.

In 1975 only one company in the Fortune 500 (0.2%) included us in a non-discrimination policy, today that figure is almost 90%!

[More, AFTER THE JUMP…]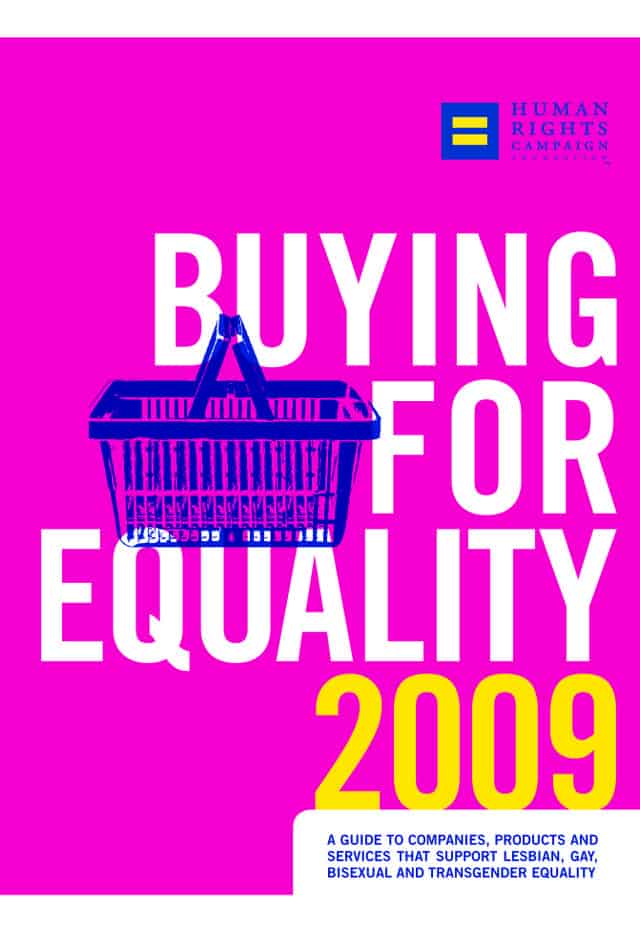 Real, significant change has come to American workplaces even as it has remained elusive in political arenas.
Flashback: It's 1974 in San Francisco's Castro District. City Supervisor Harvey Milk calls for a boycott of Coors products by the gay and lesbian community. The resulting boycott lasted for years. More than three decades later, Coors, now part of a joint venture with Miller Brewing creating MillerCoors, is one of 260 companies that received a 100% on the Human Rights Campaign's 2009 Corporate Equality Index. Since 1978, the company has been an active supporter of the lesbian, gay, bisexual and transgender community and was the first company in the beverage industry to adopt domestic partner benefits and support an inclusive Employment Non-Discrimination Act.
This is just one example of the extensive journeys made by American businesses over the last 30 years to create inclusive and welcoming workplaces for the LGBT community. Though it remains perfectly legal to fire an individual on the basis of sexual orientation in 30 states and on the basis of gender identity in 38 states, and the federal government has provided neither support nor example, corporate America has leapt at the opportunity to lead the expansion of LGBT rights. In 1975, AT&T was the only Fortune 500 company with sexual orientation in its non-discrimination policy.Today, 439 of the Fortune 500 have protections for gays and lesbians. Moves to end discrimination against transgender workers, which has occupied a much shorter period in public consciousness, started with Lucent Technologies in 1997. But already today, 151 of the Fortune 500, or 30%, include gender identity in their non-discrimination policies.
But for American business, inclusion does not mean simply that an individual is protected from discrimination. It means that each employee, customer and investor is treated fairly. In 1992, Levi Strauss & Co became the first Fortune 500 employer to offer domestic partner benefits. Today, more than half of the Fortune 500 – 53% – offer benefits to same-sex couples.
I could cite an extensive list of evidence of the unmistakable trend toward inclusion of the LGBT community in business, but perhaps the most notable example was illustrated over the last few months with the debate over Proposition 8 in California.
American corporations have gone beyond the four walls of their organizations and made a firm commitment to equal treatment of LGBT people, not only with vocal support, but also with significant financial backing. The nation's largest and most successful businesses are not just fostering inclusive and safe work environments, they're now taking the fight for full equality to the streets and the halls of government – something we can expect to see much more of in the years to come.
We can show our muscle by supporting companies and brands that stand by our community – and help to change those that don't. This week, the Human Rights Campaign released the 2009 Buying for Equality guide. Our community can and should send a strong political message by patronizing the businesses that have put their necks on the line by publicly advocating for the issues that matter to our families. This year, when making holiday purchasing decisions, use this guide to return the favor to these businesses. To download or request a copy of the 2009 Buying for Equality guide and to learn more about which companies deserve our business and which don't, please visit http://www.hrc.org/buyersguide.
by Eric Bloem, deputy director of the WorkplaceProject