The Football Association and the Hampshire police have released photos of 16 Tottenham Hotspur fans who unleashed homophobic and racist chants in late September at English player Sol Campbell who is a defender for Portsmouth Football Club. The chanters have been singled out via photographs of the crowd and released to the public for assistance.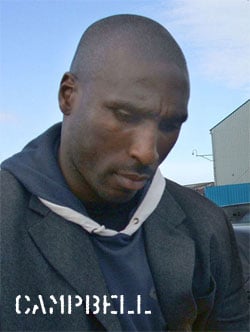 Although 16 were identified as making the ugly chants, authorities say hundreds were likely involved but are intent on prosecuting those they can.
These were the chants:
"He's big, he's black. He takes it up his crack. Sol Campbell, Sol Campbell."
"Sol, Sol, wherever you may be / You're on the verge of lunacy / And we don't give a f**k if you're hanging from a tree / You Judas c**t with HIV."
According to the London Daily News, "Campbell was branded 'Judas' after leaving Tottenham on a free transfer to join deadly rivals Arsenal in 2001 and has taken stick from when ever he's lined up against the White Hart Lane boys. He joined Portsmouth in 2006. Campbell has been suffering the abuse in one form or another for seven years but the incident at Fratton Park brought revulsion across the board. Speaking after the game the FA director of communications Adrian Bevington told BBC Radio 5 Live: 'This is disgusting, vile abuse – whether it is homophobic or racist, any abuse of that nature is simply not acceptable. We have to have a zero tolerance approach to it.'"
Below, fans at a game in 2001.
UPDATE: Two men arrested…