Yesterday, it was reported that the Vatican stated its opposition to a UN declaration formally condemning discrimination against gays because doing so would pressure nations which do not recognize same-sex unions to do so. The resolution, which the Vatican claims would "de-criminalize" same-sex unions, is set to be introduced by France on December 10th at the UN General Assembly, on the 60th anniversary of the UN declaration of human rights.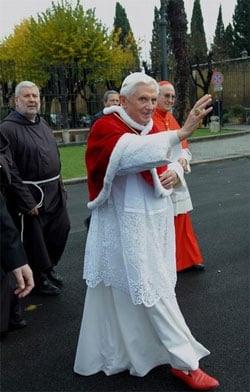 The Times reports: "Over 80 countries in the world currently outlaw same-sex relations, with punishments range from short prison sentences to life imprisonment and even death by execution. The UN declaration will not be binding, but gay rights movements hope it will lead to a UN resolution. The French minister of human rights and foreign affairs, Rama Yade, said that the EU should also 'take the lead in stopping violence against women worldwide.'"
Today, Reuters reports that the Vatican has been "attacked" for the condemnation. Once again, gays are being framed as the aggressors:
"A strongly worded editorial in Italy's mainstream La Stampa newspaper said the Vatican's reasoning was 'grotesque.' Pointing out that homosexuality was still punishable by death in some Islamic countries, the editorial said what the Vatican really feared was a 'chain reaction in favor of legally recognized homosexual unions in countries, like Italy, where there is currently no legislation.' Franco Grillini, founder and honorary president of Arcigay, Italy's leading gay rights group, said the Vatican's reasoning smacked of 'total idiocy and madness… 'The French resolution, which is supported by all 27 members of the European Union, has nothing to do with gay marriage. It is about stopping jail and the death penalty for homosexuals,' Grillini told Reuters."
In late October, the Vatican said that candidates for the Catholic priesthood should undergo psychological tests to screen out heterosexuals unable to control their sexual urges and those with strong homosexual tendencies.