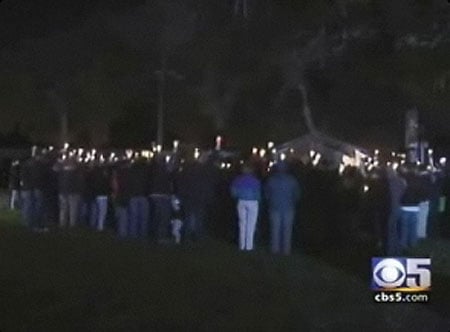 A vigil was held Saturday night for Richmond's Jane Doe, a woman who was brutally gang-raped by four men in a hate crime in mid-December and left naked on a street in the SF east bay neighborhood.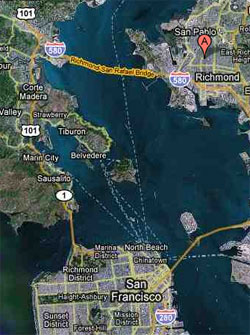 Here's VIDEO of the event along with some interviews of police and participants.
SF's ABC7 reports on a new version of what occurred:
"A close personal friend of the victim who wants to remain anonymous told ABC7, 'There were four men breaking into a car as she crossed the street. One came up behind her and hit her with a large black flashlight. Then the other men started to take off her clothes.' She says the victim told her the men were surprised when they discovered who they thought was a short-haired young man turned out to be a woman. 'They attacked her thinking she was a man. Only they know why they went ahead and did what they did,' the woman continued. The friend explained that spooked by a passerby, the men then put the victim in her car and brought her to some abandoned apartments on 14th and Burbeck where they raped and beat her. She managed to escape and find a family that took her in and called police. That family is also afraid of being identified."
Police have intensified their search for the assailants, enlisting volunteers who have been flyering the neighborhood in an effort to find leads leading to the arrests.
Previously
Police Offer $10,000 Reward for Assailants in Lesbian Gang Rape [tr]
Lesbian Gang Rape in SF Inspires Outpouring of Support [tr]
Four Sought in Gang Rape of Lesbian in San Francisco's East Bay [tr]