Arguments have concluded in Varnum vs. Brien, the case involving "six same-sex Iowa couples who sued Polk County Recorder and Registrar Timothy Brien in 2005, after his office denied them marriage licenses."
Watch the hour and forty minute proceedings, AFTER THE JUMP…
The Des Moines Register reports: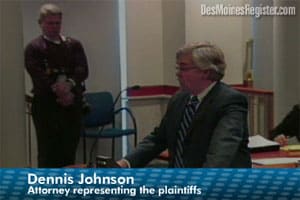 "Dennis Johnson, a Des Moines lawyer, said marriage would remain an institution of two people even if the high court allowed gay couples to wed. The assertion came in response to questions from several justices that gay marriage would open the door to other types of marriage. 'How do you stop?' asked Justice Mark Cady. 'How do you stop more than two people from getting married?' Johnson said a marriage 'has always been well defined within the concept of two people,' and that polygamy would change its historic meaning. Same-sex couples, by contrast, should have the right to marry because they meet all other requirements to wed, he said. 'This right is a time-honored right and tradition in this society,' Johnson said. 'What you see is that people have always had a fundamental right to marry. The court has made it clear. With more than two people, you would change the meaning of marriage.' Justice Michael Streit asked Johnson whether the state has 'an interest in making a last stand, so to speak? Can't the government take a big picture approach to this?' Johnson criticized Polk County's arguments about possible long-term damage to marriage as 'highly speculative,' and cast the law as an intrusion on equal rights. 'The question is: Why are same sex couples kept out?' Johnson asked. 'They have families, they would benefit from the stability, the financial stability. Their children would benefit.'"
Earlier, Polk County argued its case: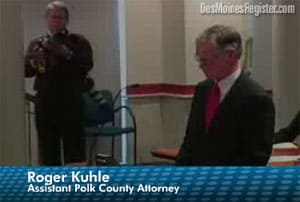 "Assistant Polk County Attorney Roger Kuhle in his arguments said a ruling that allows same-sex marriage could harm children in future generations by eventually leading to belief that marriage is unneeded. 'We're saying that, after a generation, maybe two, people will see or could come to believe that if it's not necessary to have its biological father, or its biological mother, then what's the need for getting married?' Kuhle said. The statement came in response to a question by Justice Brent Appel, who quizzed Kuhl about their arguments that same-sex marriage could harm children. Kuhle said Hanson had erred in his ruling, which declared the Iowa Defense of Marriage Act unconstitutional and threw out several expert witnesses that gay marriage opponents had hoped to use in a trial. 'The recorder has no say in this law,' Kuhle said. 'He can no more give these plaintiffs a license than he could give a license to a man and three women, or a woman and three men.'… Kuhle said that state support of same-sex marriage would teach future generations that marriage is no longer about procreation, one of its historic tenets."
A ruling is not expected for months.
Watch the arguments, AFTER THE JUMP….