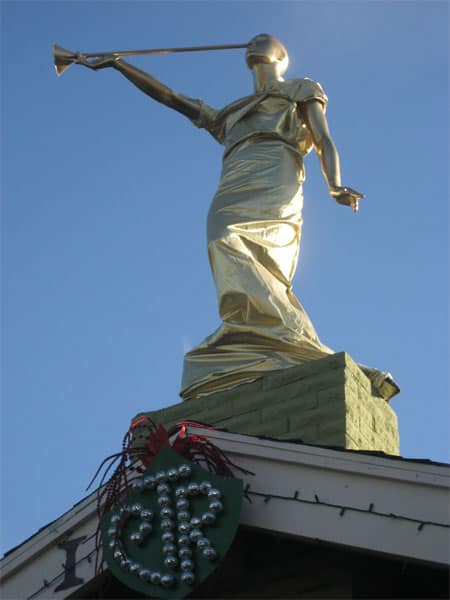 Remember the gay West Hollywood couple who decorated their house with the Sarah Palin hanging effigy before the election, and then took it down after a discussion with Mayor Jeffrey Prang?
They decorate for Christmas as well.
Jim Key of the L.A. Gay & Lesbian Center sent us these photos along with Chad Michael Morrisette's explanation of the display:
"There are religious undertones (the Mormon angel Moroni and the CTR shield). But what you see is Santa having missed the chimney [and] smashing into the roof because the Angel Moroni was in the way of Santa bringing us our holiday wishes (justice). See, we were planning on having a Christmas engagement if Prop 8 didn't pass. But then enter the Mormons. Always doing what's right (CTR – Choose the Right) Yet the irony….stripping others' rights. Anyhow, we are doing what we can here to bring attention to the injustice."
Key also reports that InvalidateProp8.org has raised more than $70,000 and more than 2,700 postcards have been mailed to the president of the Mormon church.