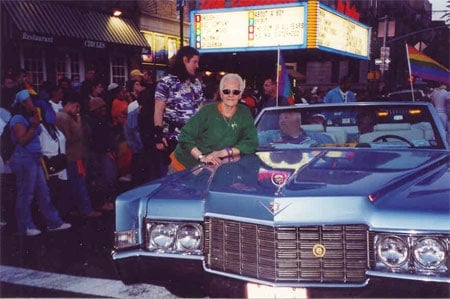 Living with Legends: The Chelsea Hotel blog says that a minority shareholder and the hotel's manager are acting improperly and unethically with regard to some of the hotel's elderly residents, and have directed our attention to one of the hotel's current residents, gay rights activist and Stonewall Rebellion veteran Stormé DeLarverie:
"This is a difficult issue to discuss, as we want to be extra careful to protect the privacy of elderly residents. However, one case is particularly pressing, and needs to be addressed immediately, and that is the case of Stormé DeLarverié. Although Stormé, who is known and loved by everyone at the hotel, is 89-years-old, she is still strong and gets around fine, and, though sometimes she forgets minor things, she is lucid and coherent when she speaks. Stormé is living in a rent stabilized apartment for $600 per month, $550 of which was until recently paid by a charitable organization (they're not all bad, after all). She receives Social Security and until recently was paying the rest of her rent out of that. In the past year, however, two problems have cropped up: first of all, Stormé lost her wallet, so she has no ID and hence can't cash her Social Security checks; secondly, the charitable organization has not paid its share of Stormé's rent for several month because of the dilapidated condition of Storme's apartment, and because they don't believe she is eating enough (she is probably attempting to conserve money since she can't cash her checks). Stormé now owes $8400 in back rent."
The photo on top comes from Stormé DeLarverie's page on the Stonewall Vets site, where you can read Stormé's bio.
Are Seniors No Longer Welcome At the Chelsea? David Elder and Andrew Tilley Survey the Elderly With an Eye to Eviction [living with legends]