Those of you who have been reading the site for a while will remember our coverage of the murder of Sean William Kennedy outside a Greenville, South Carolina bar in 2007. He was punched to the ground by Andrew Moller in the parking lot while Moller used anti-gay slurs. Kennedy never recovered from his injuries.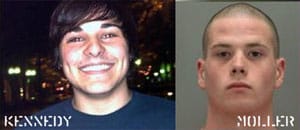 Upon his sentencing, Fox Carolina reported:
"Moller was originally charged with murder in the case. However, in November 2007 a Greenville County grand jury handed down an indictment for a reduced charge of involuntary manslaughter against Moller. Moller appeared in a Greenville County courtroom on Wednesday afternoon where he pleaded guilty to the manslaughter charge. Judge Ned Miller sentenced Moller to five years in prison, but suspended his sentence to three years with credit for the seven months in prison he has already served. The judge also ordered Moller to attend both anger management and drug/alcohol management classes. Moller must serve at least 85 percent of his sentence before being eligible for parole."
Now, Elke Kennedy, Sean's mother, who has been a vocal advocate against anti-LGBT violence since his death, reports that Moller is being considered for a parole hearing, and could be eligible for parole as early as next month.
Elke is asking the public to consider writing a letter to the parole board demanding Moller be forced to serve the remainder of his short sentence, and has provided information at Sean's Last Wish as to where and how the letter should be sent.
Help, stop early parole! [sean's last wish]
Previously
Hundreds Attend Vigil for Slain South Carolina Gay Man [tr]
SC Hate Crime: Mother of Sean Kennedy Speaks Out [tr]
Arrest Made in South Carolina Gay Man's Murder [tr]
South Carolina Gay Man Dies in Potential Hate Crime Assault [tr]