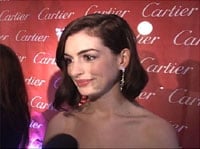 Actress Anne Hathaway was interviewed by E! on the red carpet of the Palm Springs International Film Festival earlier this week, and she was asked what she expected of Obama.
Said Hathaway: "I expect him to explain that choice of Rick Warren. I don't get it. All my friends and I were trying to figure it out, but we just can't. So I'd love that."
Watch the interview, AFTER THE JUMP…
Hathaway's brother is gay, as are 95% of her friends, according to her.
If you missed Max Blumenthal's article in The Daily Beast yesterday, don't.
(via defamer)