A disgusting sentence in Senegal: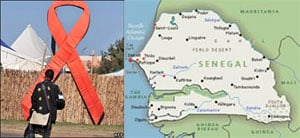 "Nine men, including a prominent activist, have been convicted of homosexual acts and sentenced to eight years in prison, a gay rights group said Thursday. Diadji Diouf, who heads an organization that provides HIV prevention services to gay men in Senegal, and the others were arrested Dec. 19 in a raid on Diouf's apartment. The men were sentenced Wednesday for unnatural acts and criminal conspiracy, said Joel Nana, Africa research and policy coordinator with the International Gay and Lesbian Human Rights Commission in Cape Town, South Africa."
The BBC reports: "Homosexual acts are illegal in Senegal but the International Gay and Lesbian Human Rights Commission (IGLHRC) told the BBC it was 'shocked by the ruling'. The judge added three years to a five-year sentence, saying the men were also members of a criminal group. Most of them belonged to an association set up to fight HIV and AIDS. 'This is the first time that the Senegalese legal system has handed down such a harsh sentence against gays,' said Issa Diop, one of the men's four defence lawyers."
Nearly a year ago, a group of men were arrested in Senegal after photos of an alleged 'gay wedding' were published in a local magazine there. The men were later released.
It was then reported that because of the situation for gays in Senegal, they were fleeing to nearby Gambia, where an announcement was issued in May from Gambian President Yahya Jammeh that he would behead gays and all who befriend them.
Things are certainly not good for gays and lesbians in many African nations. Christian leaders who help to support anti-gay, anti-condom leaders certainly don't help.