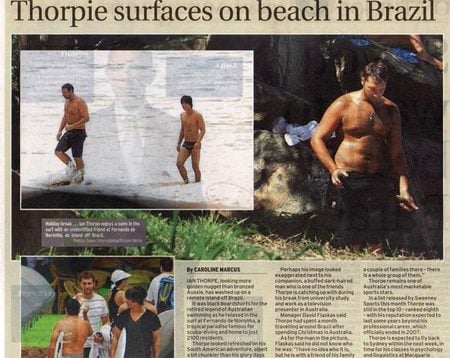 Australian media is dancing around the topic of Olympic swimmer Ian Thorpe's friendship with fellow swimmer Daniel Mendez. Maybe it's just a bromance.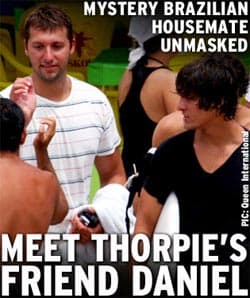 The Herald Sun:
"Super swimmer Ian Thorpe spent Christmas and the New Year on a Brazilian beach with a group of friends including his housemate and close friend Daniel Mendez. Thorpe and Mendez (right) were photographed sunning themselves and playing in the surf at Fernando de Noronha last week. Mendez is well-known among Thorpe's circle of friends in Sydney, where he has been sharing a house with the Olympian for the past three years…According to Thorpe's manager, David Flaskas, the two were introduced through Thorpe's former coach, Tracey Menzies, while Thorpe was in training for the 2008 Olympics. He and Mendez, also a top-level swimmer, trained together. The pair had of a month-long vacation in Brazil. They had flown over in December to celebrate Christmas with the Mendez family…On Monday, Thorpe flew home to Sydney to prepare for the start of the university year. He is studying psychology and linguistics at Macquarie University. It is the second time Thorpe has accompanied the more slightly built Mendes home to Brazil in the past year. A Foxtel spokesman yesterday confirmed that Mendes had accompanied Thorpe to two events in the past 18 months – the 2007 Australia's Next Top Model finale and the 2008 MTV Awards. Six months ago Thorpe stunned fans by proclaiming he was 'in love' with someone who did not live in Australia. When asked about Thorpe's relationship status with Mendez, Flaskas yesterday said the two men were mates."
And, just to clear up any confusion, we all know 'mate' means 'friend' in Australia.