Johannes Mehserle, the San Francisco BART police officer who shot and killed an unarmed man at point blank range on an Oakland subway platform early on New Year's Day, has been arrested on a fugitive murder warrant.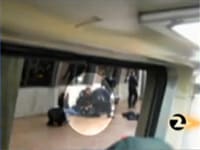 Mehserle's actions, in which he pulled out his gun and shot 22-year-old Oscar Grant in the back while he lay prone and subdued on the platform. were recorded on several phone video cameras and posted to YouTube. The senseless killing sparked riots in Oakland.
AP: "The 27-year-old Mehserle surrendered without incident, authorities said…Hundreds of protesters have taken to the streets calling for the prosecution of Mehserle, with one rally last Wednesday spiraling into violence and resulting in more than 100 arrests and dozens of businesses damaged. John Burris, the attorney for Grant's family, said he talked to Grant's mother, Wanda Johnson, on Tuesday night and she was delighted with the news of the arrest."
The Barbara Jordan/Bayard Rustin Coalition, a Black LGBT group, is planning a candlelight vigil in Los Angeles tonight to honor the memory of Oscar Grant.
Watch the original news report from KTVU, AFTER THE JUMP…