"This issue was discussed on a telephone call last week, and by a majority vote, the organizing committee decided not to let the press into the entire conference," Tyler said in a Dec. 30 e-mail to reporters. "After the call, I … felt very uncomfortable with this decision. I asked for it to be brought up again, as I think total media access is an extremely important issue. When I was told that the newly elected 'Executive Committee' had decided not to bring the issue up again, I resigned. … It felt like the same old 'secretive' process that had happened during the No on 8 campaign."
In e-mails that circulated among the 53 members of the Equality Summit Planning Committee, which were forwarded to a reporter, a few other committee members also have expressed concerns about the media decision.
The committee includes people that the e-mails labeled as being from "ACLU of San Diego/Imperial Valley; And Marriage for All; Change to Win; CAP PAC; Coalition for Equal Rights; API Equality-LA; Barbara Jordan/Bayard Rustin Coalition; The Center for Lesbian and Gay Studies in Religion and Ministry; San Diego LGBT Community Center; Gay And Lesbian Alliance of the Central Coast; Democracy For Change; Stonewall Dem Central CA Coast; Congregation Kol Ami; American Institute of Bisexuality; Parents, Families and Friends of Gays and Lesbians National; Sacramento Gay and Lesbian Center; Marriage Equality USA; Progressive Jewish Alliance; CHIRLA; National Gay & Lesbian Task Force; Family Equality Council; California Faith for Equality; Coachella Valley Marriage Equality Coalition; National Center for Lesbian Rights; Orange County Equality Coalition; Salinas Valley Equality; Lambda Legal; L.A. Gay & Lesbian Center; HONOR PAC; Alice B. Toklas Democratic Club; Human Rights Campaign; Out & Equal Workplace Advocates; Spectrum LGBT Center; COLAGE; Vote for Equality; San Francisco LGBT Community Center; The Equality Campaign; Christopher Street West Association/LA Pride; Bay Area Lawyers for Individual Freedom; ACLU of Northern California; PFLAG; Pride at Work, AFL-CIO; Love Honor Cherish; (and) Equality Action NOW!"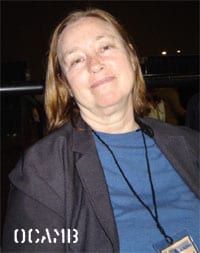 Among the reporters hoping to attend the full summit is Karen Ocamb, news editor of the Los Angeles gay magazines Frontiers and IN Los Angeles.
"Responsible journalists have a long history of respecting legitimate requests to go off the record when discussions turn to strategy or issues of a politically sensitive nature," Ocamb said. "LGBT journalists … represent the thousands of individuals who contributed to and volunteered for the No on Prop 8 campaign and if people are going to be asked to be engaged again, they have a right to know what happened, who will lead them, and (to have) at least a sense of what's coming next. And at this stage, that can only happen through us."
After some discussion, this California-based reporter also informed summit organizers that he believed the gathering should be fully open to the press, given that the No on 8 campaign has been harshly criticized for its closed style and that people attending the summit will talk to reporters afterward anyway, possibly leading to news stories that might not be as accurate as ones that would be produced if reporters were present.
Prop 8, which took effect Nov. 5, is being challenged as unconstitutional before the California Supreme Court. A ruling is expected in June.