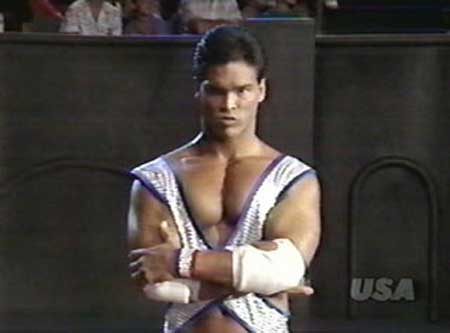 The new memoir out next month from American Gladiators veteran Dan Clark (aka Nitro) is given a sneak peek today by Page Six. In recalling the toll steroid use took on his pecs, Clark has also created a whole new memoir subgenre that can only be dubbed 'tit lit':
Writes Clark: "Bitch t- -s, man boobs, breast-chesticles is what they're called on the street. Gynecomastia is the scientific name. No matter what you call it, I [had] it. I hate[d] taking off my shirt. For photo shoots, [I'd] wet my nipple with spit . . . [to] look firm instead of hanging down."
Page Six reports: "As he shot seven seasons of 'American Gladiators' from 1989 to 1996, he pleaded with the wardrobe stylist to make him a new uniform, but didn't tell her it was 'to hide my budding breasts.' He eventually underwent reduction surgery. Clark, a former LA Rams defensive lineman, used steroids for 20 years. They also took their toll on his private parts, so much so that he embarrassingly had to explain to women what was going on. 'My b- – -s never really regained their size. They're kind of shriveled,' he sadly told one bedmate. In addition, steroids subjected him to a 'dull throbbing pain' every time he had sex. Clark, 44, says when he first started injecting steroids, he gained a whopping 32 pounds of muscle in 10 weeks and topped the scales at 262."
Clark says he finally kicked the steroid habit.