A gay Columbus, Ohio couple whose SUV was set on fire yesterday morning were reportedly urged to come forward by police about an attack on them in September, WBNS reported. It's unclear from the station's report how the fire and the attack might be related: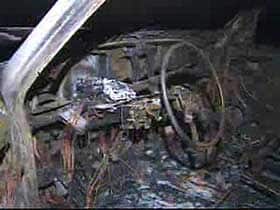 "John and Larry Charlton were hospitalized following the beating on Harris Avenue in September, 10TV's Glenn McEntyre reported. The men, who have been together more than seven years, said the attack began when a group of men yelled a gay slur at them. 'Next thing I know, one of them's on (John's) back, whooping on him,' Larry said. 'I pulled that guy off. He turned around and smashed me a couple times in the head and knocked me down. Then three more guys were on top of John.' Police urged the men to come forward with their story after their SUV was set on fire Tuesday morning. 'Why in the world did these people jump us? How can they be that hateful to two people just walking down the street?' Larry said. Police said one of the attackers is a white man in his late 30s or early 40s with a long gray ponytail. The second is a white man in his early 20s with short brown hair."
Those with any information about the attack is urged to call Central Ohio Crime Stoppers at 645-TIPS.