At yesterday's Secretary of State confirmation hearings, Senator Russ Feingold asked Hillary Clinton about difficulties faced by LGBT employees at the State Department.
FEINGOLD: So I look forward to working with you. Let me switch to something completely different. There's widespread recognition of the need to build a more robust and effective diplomatic and development corps. And as a part of that effort, it, of course, makes sense to consider ways to address challenges faced by the lesbian, gay, bisexual and transgender employees, particularly relating to domestic partner benefits and State Department policies that make it difficult for the partners of foreign service officers to travel and live at overseas posts. What would you do as secretary of state to address these concerns? Will you support changes to existing personnel policy in order to ensure that LGBT staff at State and USAID receive equal benefits and support?
CLINTON: Senator, this issue was brought to my attention during the transition. I've asked to have more briefing on it because I think that we should take a hard look at the existing policy. As I understand it, but don't hold me to it because I don't have the full briefing material, but my understanding is other nations have moved to extend that partnership benefit. And we will come back to you to inform you of decisions we make going forward.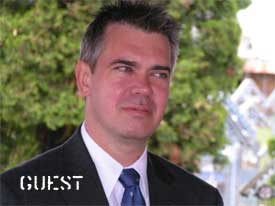 Issues of inequality and unfair treatment at the State Department were highlighted last year when departing Ambassador to Romania Michael Guest criticized the agency's failure to deal with them. Guest took a parting shot at Secretary of State Condoleezza Rice at his retirement ceremony for failing to answer his calls to address LGBT issues. Said Guest: "This was my last chance. I never got a response. I don't know that I expected a response. What I wanted was attention to the issue….One word from the secretary [would have spurred action]. That's what I was hoping, that I would somehow get to her heart."
Gays and Lesbians in Foreign Affairs Agencies (GLIFAA) was pleased with the Feingold-Clinton exchange, and released the following statement:
"GLIFAA plans to present to the incoming Secretary of State a letter signed by over 2,000 current and former employees of the Department of State and other foreign affairs agencies, requesting fairness for LBGT employees. GLIFAA board members also met with members of President-elect Obama's transition team at the Department of State in December. GLIFAA President Michelle Schohn welcomed Senator Clinton's acknowledgement that fairer policies serve as good business sense. Schohn noted that LGBT U.S. diplomats and aid workers serve overseas in some of the most dangerous locations, but continue to be denied equal treatment for their families. She expressed hope that the incoming Administration would work quickly to implement overdue reforms…Among many other obstacles, LGBT partners lack access to affordable health insurance coverage and resources for moving abroad. During overseas tours, employees' partners do not receive assistance in obtaining a visa and lack access to employment opportunities, emergency evacuation, and embassy medical units, all afforded to married, heterosexual couples."
Earlier
Hillary Clinton Looks Headed for Swift Secretary of State Approval [tr]