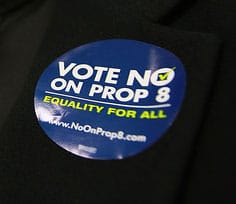 As anger over the handling of the failed campaign against Proposition 8 persists, blogger/activist Michael Petrelis fired the latest finger-pointing salvo late yesterday, publishing the names of those on the "No on Prop 8" executive committee, information that has not been widely available. The names were also posted on the L.A. Weekly website.
"No on 8" Executive Committee, Principal Officers, according to FPPC Form 410, the Statement of Organization Recipient Committee for the campaign:
Geoff Kors, executive director, Equality California;
Lorri Jean, chief executive officer, Los Angeles Gay & Lesbian Center;
Kate Kendell, executive director, National Center for Lesbian Rights;
Michael Fleming, executive director, David Bohnett Foundation;
Marty Rouse, national field director, Human Rights Campaign;
Heather Carrigan, ACLU of Southern California;
Oscar De La O, Beinestar Human Services in Los Angeles;
Sue Dunlop, Los Angeles;
Maya Harris, ACLU of Northern California;
Don Howes, Los Angeles;
Dennis Herrera, City Attorney of San Francisco;
Dr. Delores Jacobs, chief executive officer, San Diego LGBT Community Center;
Joyce Newstadt, San Francisco;
Tawal Panyacosit, director, Asian and Pacific Islander Equality in San Francisco;
Rashid Robinson, Los Angeles;
Kevin Tilden, communications/political consultant, San Diego;
and "No on 8" treasurer, Steve Mele, founder of ML Associates in West Hollywood.
Equality California will be hosting an "Equality Summit" on January 24. According to Rex Wockner, "The meeting of more than 250 California GLBT activists at the Los Angeles Convention Center will focus on strategizing and organizing to win back same-sex marriage in California."

The "Equality Summit" has already come under criticism for plans, which were later dropped, to block media access to the proceedings.
Today, the Bay Area Reporter revealed that over half of "Equality Summit" organizers failed to make any donation to "No on Prop 8" during the campaign: "An analysis of data filed with the secretary of state's office indicates that 60 percent of the 57 members of the planning committee for this weekend's Equality Summit did not make any financial contributions to the efforts to defeat Prop 8 last year. The summit, to be held at the Los Angeles Convention Center, is meant as a gathering of community leaders and others committed to winning back marriage equality in California to share information and resources, and to plan next steps."
Names of All 16 Members of No on 8's Executive Committee Made Public [petrelis files]
Queer Town: "No on 8" Executive Committee Revealed [la weekly]
Summit planners stingy with No on Prop 8 dollars [bay area reporter]