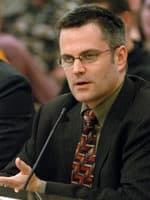 Portland, Oregon's just-inducted openly gay mayor, Sam Adams, 44, has confessed to having had a sexual relationship with teenage former staffer Beau Breedlove in 2005. Adams was a county commissioner at the time. Although Adams and Breedlove met when the teen was 17 years old, Adams maintains that he and Breedlove did not have sex until Breedlove was 18. Adams apologized to the local press today:
"Until today I have not discussed the true nature of the relationship with anyone. Not my friends, family, staff or colleagues on the council. I have apologized to Beau Breedlove for asking him to lie for me. I want to apologize to my colleagues for my dishonesty and especially to the people of Portland for my dishonesty. I should have been truthful from the beginning,"
Adams had been questioned about his relationship with the then-teen before his November election, but both he and and the young man told the press at the time that their relationship had only been platonic. It not yet clear why Adams has now admitted the relationship or whether he intends to stay in office. Adams' election in 2008 was hailed by LGBT activists, as Portland had become the largest city in the country with an openly gay mayor.
UPDATE: After the jump is a radio interview that Adams made with a Portland station today. The sound is a bit garbled at times, but Adams says that he doesn't yet know whether he'll be keeping his job. Asked if his apology is enough to satisfy the voters, Adams replies, "That's up to the people of Portland."