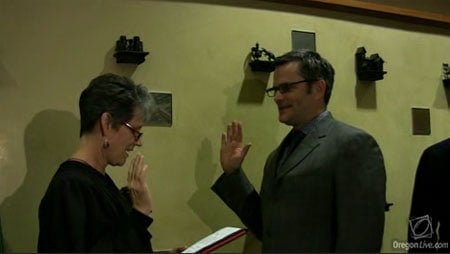 Sam Adams, who was elected last May to replace Portland Oregon's outgoing mayor Tom Potter, was sworn into office at 12:01 am on New Years Day. Approximately 40 people were on hand including Adams' partner Peter Zuckerman, who is a reporter with The Oregonian.
Portland is now the largest U.S. city with an openly gay mayor.
While the AP reports that neither Adams nor his opponents "raised his sexuality in the race," Adams was targeted before the official race began by Bob Ball, a gay Portland real estate developer who also had an interest in the mayor's office, in an ugly, unsubstantiated smear campaign involving an underage intern. Adams, obviously, survived that attack.
Said Adams of his win and his sexuality: "This is a testament to how fair-minded Portlanders are that it wasn't an issue. I spend my time on the basic issues of life. A part of that includes equal rights, but that's not even close to a majority of the time. My passions for public service includes promoting social justice equality for all, but it obviously also includes finding good jobs for people, which is also part of my family's background of not being able to always have economic security. Being gay is part of me, so is being Irish-American, so is being from a small Oregon town.'"
Watch Adams get sworn in, AFTER THE JUMP….
Previously
Portland, Oregon's New Gay Mayor Sam Adams: Victory Speech [tr]
Portland Elects Openly Gay Mayor Sam Adams [tr]