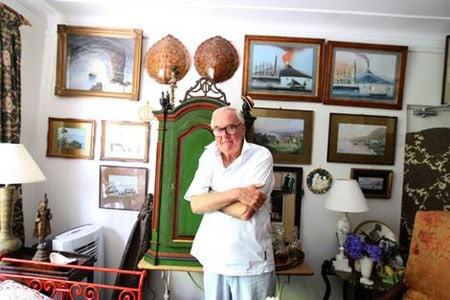 Edward Young will become Australia's first officially (monetarily) recognized war widower, when a law he spent years fighting for goes into effect in July, said a Veterans' Affairs Minister yesterday:
"Every so often, Edward Young sits on the couch in his apartment and closes his eyes. 'And then I just pretend I'm not here any more,' he says. It has been 10 years since his partner, Larry Cains, died. They met in London in 1960 – he, a model, was introduced to Mr Cains, a photographer who had served with the Australian Army in Borneo during World War II. 'He was desperately handsome,' Mr Young said. 'We spent two weeks together and I told him I wanted to spend my life with him.' Now, after a decade of fighting to have the law recognise his and Mr Cains's love as equal, the Sydneysider will soon become the country's first recognised gay war widower. Laws passed in November mean that partners in gay relationships with serving and retired soldiers will, for the first time, be allowed to claim pensions – opening the door for the so-called 'forgotten people' of our military heritage and allowing for more people to make claims that must be paid out."
Young says he was not in the battle for himself alone: "I wanted a decision that wouldn't just apply to my own circumstances. What I wanted was something that would apply right across the board. I wanted something that would say that, yes, there was discrimination and it didn't just apply to me. It applied to all facets of our law."
What a hero. Young was with Cains for 38 years.