Two of four suspects in the mid-December gang rape of a 28-year-old woman, a lesbian, in the SF East Bay city of Richmond, were arraigned on Tuesday. Only one of them was charged with a hate crime: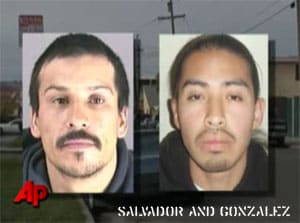 "Humberto Hernandez Salvador, 31, was charged with numerous felony counts including kidnapping, rape and carjacking, and his charges carry the felony enhancement of a hate crime. Also arraigned was Josue Gonzalez, 21, who was accused of rape, carjacking and various sexual crimes against the woman, whom authorities have not identified. A third suspect, Darrell Albert Hodges, 16, was charged with similar crimes as an adult and was arraigned Monday. A fourth suspect, age 15, is being charged as a juvenile in the case. According to the charges, the District Attorney's Office contends that Salvador used a firearm in the commission of his crime. He is being held in County Jail in lieu of $2,220,000 bail. Gonzalez is being held on $1,850,000 bail. Neither man entered a plea, and both were referred to the public defender's office. Deputy District Attorney Karen Zelis declined to comment after the hearing."
Their victim, who has not been identified was carjacked, and repeatedly raped and assaulted for 45 minutes on December 13th before she was dumped on the street and sought help from a resident. The assailants reportedly used anti-gay slurs during the prolonged attack, and may have identified her as a lesbian by the rainbow stickers on her car.
Watch the AP report, AFTER THE JUMP…