The Metrosexual arrives in Rwanda.

Former Victory Fund executive director Brian Bond named deputy director of the White House Office of the Public Liaison: "In his role with the administration, Bond will have managerial and strategic responsibilities for the entire Public Liaison office as well as function as the point person on LGBT issues."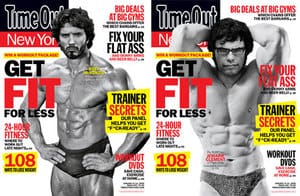 The dudes from Flight of the Conchords get buff.

FLUSHED: Larry Craig to drop further appeal in men's room sex sting case.

Tuberculosis breaks out in SF's Castro: "San Francisco health officials have traced several cases of tuberculosis to patrons of Castro gay bars, with one of the people infected a bartender in the area. The discovery has prompted them to ask 140 employees of businesses in the gay neighborhood who may have been exposed to an active case of TB to get screened for the potentially deadly disease."

Christian anti-Defamation group lists Top Ten "most egregious acts of Christian Bashing in America" in 2008. At the top of the lists are the peaceful demonstrations that followed the passage of Proposition 8 in California.

GLAAD identifies the worst anti-gay defamation voices of 2008 in no particular order: The 'Yes on 8' campaign, Bill O'Reilly, Greg Gutfeld, James Dobson, Jim Quinn, John Gibson, Laura Ingraham, The New York Post, Pastor Rick Warren, Sally Kern, and cartoonist Sean Delonas.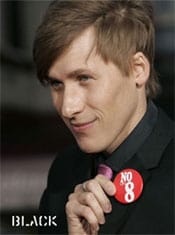 Dustin Lance Black receives WGA nomination for Milk screenplay…

People's Choice Awards handed out.

Defying Inequality: Stars of Broadway's Wicked to perform in four cities on January 12th – New York, Chicago, Louisville, and L.A. – to benefit benefit Empire State Pride Agenda, Equality California, Garden State Equality and Vermont Freedom to Marry Task Force: "Each Defying Inequality event will feature musical performances that support Wicked's theme of acceptance and illuminate the musical's message that people should not be judged on first impressions."

Celebrity Twitter accounts were accessed by an 18-year-old hacker who broke into an administrator's account by using a 'dictionary attack' that opened it using the word "happiness."

Michael Phelps in football photo-op.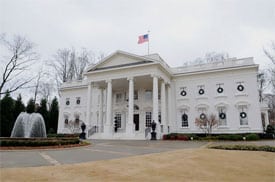 White House replica for sale in Atlanta: "For the last seven years, almost as long as President Bush has been in Washington, Mr. Milani, an Iranian-American home developer, has lived in a scaled-down version of the presidential mansion in Atlanta. A private Xanadu for Mr. Milani, a headache for neighbors and a destination for camera-wielding gawkers, the 16,500-square-foot home has become a kooky symbol of this boom-boom city's ever-growing residential skyline."

A Spanish judge who was suspended for ignoring Spain's laws allowing homosexual couples to adopt and showing contempt for a lesbian while processing her application is being offered support from fellow homophobes: "An internet campaign has raised 7,000 € for the homophobic judge Ferrín Calamita. The judge, who has been suspended from his post in the Murcia Family Court for two years, after maliciously delaying the adoption of a child by a lesbian mother's partner, has received 140 messages of support."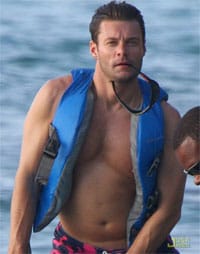 Ryan Seacrest and Simon Cowell take cold spray.

Stem cells seen to reverse neural birth defects in mice whose mothers were given heroin during pregnancy.

SONY introduces first camera with a web browser.

The Mid-Atlantic Leather convention is coinciding with the inauguration in D.C. this year. Bearnaked Joe offers a guide on how to tell which event you're celebrating.

American Family Association sets its sights on Pepsi.

Florida gay groups form statewide federation: "An organizing committee in formation, made up of leaders from around the state, is in the process of creating and launching a statewide federation of local organizations: Organizations United Together, Inc. ('OUT'). OUT's mission will be to connect and empower local organizations to share resources, skills and information in order to forge statewide strength in the pursuit of equality and justice for lesbian, gay, bisexual and transgender Floridians. OUT intends to work hand-in-hand with other state and national organizations that share similar goals."