Last night, Colorado's KRDO aired their interview with Grant Haas, the New Life church volunteer who has come forward with new claims against Ted Haggard. KRDO spoke with Grant and played phone messages in which Haggard thanks the volunteer for erasing damning text messages that might have hurt the pastor.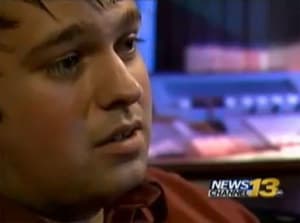 Haas claims Haggard's "eyes lit up" when he first learned the volunteer had been in a treatment program, struggling with his homosexuality: "His whole attitude toward me changed."
Haas also talks about a 2006 trip to Cripple Creek, Colorado he took with Haggard: "He asked me if we were going to be godly or bad that night? Were we going to just hang out and be friends or was I going to go buy him porn and masturbate with him and take methamphetamines with him and show me all these things he likes to do with him when he travels."
Haggard claims their relationship did not involve physical contact. And of course we know Haggard has a record of telling the "truth" before the real truth comes out.
Says Haas: "They don't think Ted Haggard is a harm to the community, and I really think that they're wrong. I think that they're dead wrong"
Yesterday, Mike Jones, the escort at the center of the original Haggard scandal, posted a video saying he knew there were others and expressing anger at organizations within the gay community that didn't take him seriously enough to return his phone calls.
The Trials of Ted Haggard, a new documentary by Alexandra Pelosi, is set to air on Thursday night. Haggard himself is scheduled to make an appearance on Larry King Live that night as well.
Watch KRDO's new video, AFTER THE JUMP…
Previously
New Ted Haggard Scandal Erupts; Sex with Male Church Volunteer [tr]
Ted Haggard Escort Mike Jones: I Knew There Were Others [tr]