"You've got to elect gay people, so that thousands upon thousands [of gay children] know that there is hope for a better world."
We're recruiting the next Harvey Milk. You?
Maybe you know her.

This past year, dozens of LGBT political candidateswon their bids for public office including Congressman-elect JaredPolis; Portland, Oregon Mayor-elect Sam Adams; and Oregon Secretary ofState-elect Kate Brown.

Why does this matter?
Because out leaders make change.
[More, AFTER THE JUMP…]

Why does this matter?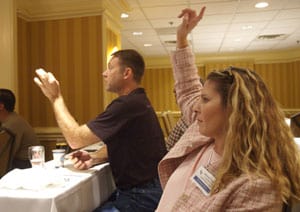 Because out leaders make change.
Pittsburgh has a domestic partnership registry because of out city councilman Bruce Kraus.  The state of Colorado has an anti-discrimination law because out state Senator Jennifer Veiga introduced it.
The Gay & Lesbian Leadership Institute trains tomorrow's out elected officials on how to run for office with its Candidate and Campaign Training. Do you have the drive to run for office?
Are you tired of having decisions made for you? Trainee Kevin Beckner said he was "tired of standing on the sidelines" and went on to defeat an extreme right-wing incumbent for a countywide seat in Florida.
Do you want to see people like you represented in positions of power? Trainee Lupe Valdez won her first term as Dallas County Sheriff in 2004, making her the first Latina and gay person to hold the job (which no Democrat had won in 25 years).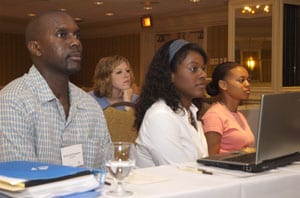 Are you willing to take on the powers that be? When a local paper reported anti-gay remarks by a city councilman, trainee Joel Burns used that attack as his campaign's "galvanizing moment."
GLLI's three-day comprehensive training prepares aspiring elected officials for the reality of campaigning. Participants learn from leading experts during the day and work with their peers on a complex simulation at night. It's just like a real campaign – you work long hours and compete against your opponents based on tried-and-true campaigning tactics.
The training staff takes a no-nonsense approach to campaigning. Lead trainer will throw trainees curveballs in the middle of the simulation, simulating the way campaigns can change momentum on a dime. Meanwhile, strategist Stephanie McLean, who used her direct mail expertise to help openly lesbian state representative Patricia Todd win a seat in the Alabama legislature, will go over how to craft a message and make a realistic budget.
Trainings take place all year long in cities across the country, showing participants the right way to raise money, handle the media, create a winning campaign plan and, of course, learn how to run as an openly LGBT candidate. Gay candidates face attacks based on their sexual orientations. Just this past November in Oklahoma, a private individual put out a newspaper ad against statewide candidate Jim Roth urging voters to vote against him, suggesting he would serve as a shill for "homosexual militant activists."
Gay politics are inherently personal – merely being up-front about who you are can be turned into a political weapon. And winning doesn't just happen, it's an all-consuming effort for people thirsty for change.
Harvey always said "I'm here to recruit you." In that spirit, I invite you to consider attending a training to help further his dream of having openly LGBT people serve in all levels of government.
To learn more about running for office, click here.
By Dan Miller, Editor, GayPolitics.com,
Gay and Lesbian Victory Fund and Leadership Institute