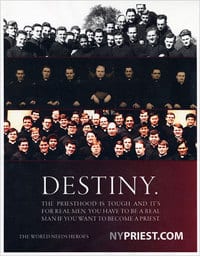 In October, the Vatican advised that candidates for the priesthood should undergo psychological testing "to screen out heterosexuals unable to control their sexual urges and those with strong homosexual tendencies."
This just in from the AP:
"A Vatican office that evaluated U.S. Roman Catholic seminaries says the schools have made improvements in halting what they call 'homosexual behavior' among students. The Vatican also says seminaries are doing well in teaching about celibacy and are generally effective in screening candidates for the priesthood. The Vatican ordered the seminary review in response to the clergy sex abuse crisis to see whether the schools had contributed to the problem."
Sent via press release from the Department of Wishful Thinking.