Californians Against Hate reports: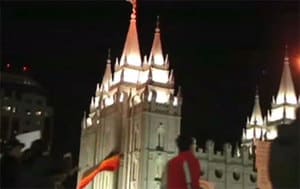 "Steven Greenstreet, Producer at the prestigious American News Project (ANP), a Washington, D.C. based news organization, just released a 7 minute video with brand new information on what some are calling proof that the Salt Lake City, Utah based Mormon Church spent large sums of money to communicate with California voters in order to pass Prop 8 last fall. The Church had released only a 4 minute edited down version of its hour long simulcast on its web site last October that was broadcast to every Mormon Church building in 5 Western States. ANP obtained written and audio copies of the entire broadcast, including the missing 56 minutes."
Californians Against Hate is forwarding the information to the California Fair Political Practices Commission (FPPC) in Sacramento, which has an active investigation underway into the financial activities of the church with regard to Prop 8. Ultimately, the church could be fined $5,000 per violation and lose its tax-exempt status.
Watch the video, AFTER THE JUMP…