Sen. Ed Murray (D-Seattle) and Rep. Jamie Pedersen (D-Seattle) introduced a measure in the Washington legislature yesterday that would offer same-sex couples the same rights and benefits of heterosexual married couples, the Seattle Times reports: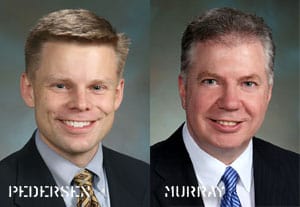 "The 110-page bill makes changes to all remaining areas of state law where currently only married couples are addressed. The bill would add same-sex domestic partners to state statutes ranging from labor and employment to pensions and other public employee benefits."
Said Pedersen, who is gay: "This is everything but marriage. Although we view this as an improvement that provides real and concrete protections to same-sex partners, it's an inadequate substitute for marriage. Our hope is that the continuing success of this legislation helps people understand what marriage is, and that it gets them more comfortable with treating all families with equality dignity and respect…It's entirely possible that next year, enough things might have changed that we feel like it's time to make a run at the marriage bill. We're not there now. But it's not out of the question."
Murray and Pedersen are two of six openly gay members of the Washington legislature.