Marriage equality ballot initiative launched in California: "The California-based Yes! On Equality campaign launched a 2010 ballot initiative today (the "California Marriage Equality Act") with the aim of ensuring equal access to marriage for all Californians in accordance with the California State Constitution."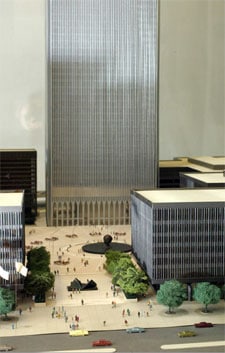 American Architectural Foundation donates seven-foot replica of World Trade Center to the 9/11 Museum. The model was designed by WTC architectural firm Minoru Yamasaki Associates. Tropolism: "The model is huge, a technical achievement in its own right, not just in construction but in the extreme stewardship needed to keep it in good shape. And yes, it's significant and ironic that a paper and plastic model outlived a huge building complex. It's a powerful reminder of what was lost seven and a half years ago."

Lady Gaga keeps her poker face on in frigid London.

PlanetOut cutting 50% of staff in wake of merger with Regent Media.

Airbus to offer Obama A380 superjumbo to replace the Air Force One Boeing 747: "Tom Enders, chief executive, said the US was already thinking about new aircraft for the presidential fleet and it was 'not completely absurd' to consider the superjumbo as an alternative. It can carry as many as 840 passengers and is the European plane-maker's flagship, with one sold to a Gulf sheikh."

Candlelight vigils held for BART shooting victim Oscar Grant.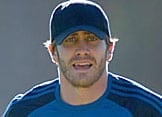 Jake Gyllenhaal won't stop running.

Liverpool, UK to receive final approval to create gay village: "Councillors will consider closing three city centre streets, home to many of Merseyside's favourite gay-friendly venues, to traffic."

Meet Tim Cook, the man who will become temorary, and possibly permanent CEO of Apple, following Steve Jobs' announcement yesterday that he is taking a leave of absence because his health issues have turned out to be more complex than he originally thought.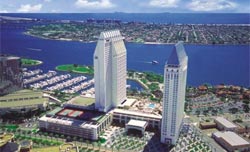 State Bar of California's Annual Meeting to hold annual meeting at Prop 8-supporter Doug Manchester's Grand Hyatt San Diego. Gay attorneys protest: "Los Angeles attorney Thomas Watson, co-founder of Love Honor Cherish, which describes itself as a grassroots organization dedicated to marriage equality in California, opined that the location was 'something the State Bar should immediately reconsider.' He suggested that holding the meeting at the hotel would 'de facto exclude…any conscientious attorney in California from going' to the event, which was 'discriminatory' and 'inexcusable.' With the state's economy suffering, he maintained 'hotels are begging people, begging people, to plan an event,' and that 'it would be better not to have the meeting at all than to have it at a place where the State Bar of California would be contributing to someone who is directly contrary to equality for all Californians.' Watson called for the resignation of the person who made the decision to have the event at the Hyatt and vowed to resign from any bar association which participates in the conference of delegates, which will take place the same weekend."

BAFTA nominations announced — guess who got a million?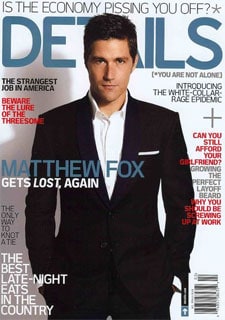 Matthew Fox looking a bit lost in Details.

Attorney General nominee Eric Holder breaks with Mukasey: "I agree with you, Mr. Chairman, waterboarding is torture."
Whitney Houston staging comeback: "Whitney Houston's new album (now without crack) will be released sometime this March, according to inside sources. One of those being Clive Davis, music mogul and Whitney's mentor pre and post-crack addiction. Whitney will also have the honor of being the headliner at Clive's pre-Grammys bash and she will reportedly be performing brand new tracks off the new disc."

Singapore man gets eight years in prison for slashing colleague over gay rumor.

What have the attached-at-the-hip hotties Gael Garcia Bernal and Diego Luna been up to? I know you've been wondering…

Four horn players from Seattle's Rainbow City Band to join gay and lesbian band in inauguration parade. Said trumpeter Will Dean: "It's symbolic, but symbolism is important. You need things that are milestones to represent where you've been and where you're going, and for the gay community this is an important milestone."