Jezebel reports that fashion designer Jason Wu, who designed Michelle Obama's inaugural gown, has been alleging that the New York Times outed him to his family in this profile published over the weekend: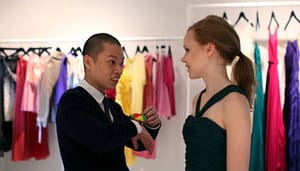 "Minutes before Jason Wu was to become famous as the 26-year-old designer of Michelle Obama's inaugural gown, he ordered a pepperoni and mushroom pizza from Domino's at his apartment in Midtown, then sat down with his boyfriend, Gustavo Rangel, and a neighbor to watch the festivities on television."
Dan Savage notes: "Reporters these days operate under the assumption that men with boyfriends—particularly men in New York City, particularly male fashion designers—are out of the closet. So the New York Times really shouldn't be faulted for 'outing' designer Jason Wu to his extended family, Jezebel. Wu outed himself to and through the New York Times. The lesson here: If you're making a secret of your homosexuality it's your responsibility to keep it secret. It's not the New York Times' responsibility."
And it's not Amanda Lepore's responsibility either.
The Spotlight Finds Jason Wu [nyt]
Did The New York Times Out Obama Designer Jason Wu? [jezebel]
Please Make a Note of It [slog]